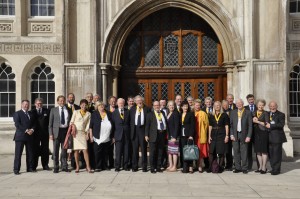 [Photo courtesy of Martin Payne – click to view larger image]
Our Broad Street Ward Club Chairman, Chris Hayward, and our Secretary, Judith Rich, managed to get virtually all of the Past Chairmen of the Club to a luncheon at Guildhall on 26 September!  A great time was had by all, as you can see far too clearly on some rather jolly faces.  In order to propose a toast though, my problem was to establish the collective noun for a 'bored of Chairmen' who were clearly not bored at all!  Herewith my feeble attempt:
"My fellow Chairmen.  It is an honour for me today to make my first address as the new President  to such an august group.  Groucho Marx's famous quote, "I don't want to belong to any club that will accept people like me as a member" raises serious questions – should that be doubled for any club that would have people like us as chairmen, or perhaps tripled for any club that would accept Mainelli as president.  
I had a delightful farewell lunch at the Guildhall with Sir David Lewis last week, when Archie Galloway shared a copy of Matthew Norman's 2005 Sunday Telegraph restaurant review for the short-lived Throgmorton Restaurant in our ward.  Some of you may remember this ghastly restaurant of "insane décor" down in the dungeons under Drapers Hall.  The review included phrases such as "more in pity than in anger", "the first warning of the ensuing horror comes from the scent (eau de cottage hospital mingled with essence of mothball)", "delayed shock, perplexity and something close to disbelief", and "gizzard of syphilitic mountain yak".  We were surprised the Telegraph's legal team allowed publication.  The review concluded with a score – 0.07/10.
So this afternoon's question must be, how would we score Broad Street Ward Club and her chairmen?  From the Ward's first mention as "Bradestreete" in 1293 it has been a place of exchange incorporating the Stock Exchange, Royal Exchange and Bank of England.  The original ward was a bit larger, encompassing Broad Street Rail Station and going on down to Cornhill including Gresham's Palace and the Merchant Taylor's.  Our ward club's origins go back to at least the 18th century, when we had a volunteer militia under Alderman Richard Clarke (1797).  But the true founding of today's ward club was on the night of 19 October 1976 at Carpenters' Hall when Sir Hugh Wontner and a number of electors formed the club.  Sir Hugh was followed by Christopher Collett and then Sir David – all three staunch supporters of the club.  37 years later the club has grown over the years in at least three ways – from 100 to 200 to now 303 members; to having held over 500 events over the years; and probably also grown many of our waistlines.
As for the ward's future, we members are developing a "Venn diagram" strategy where we seek to place the Ward Club even more firmly inside the electorate, which can only lead to yet more success for the Club.   I am honoured to have the support of three excellent Councilmen, all of whom are former Chairmen – Deputy John Bennett, John Scott and Christopher Hayward.
I don't know what the collective noun is for chairmen – a set of chairmen, a fold, a board?  But succession is the collective noun for Broad Street.  Successful committees, successful secretaries, successful chairmen.  It is you, a succession of successful chairmen that have made Broad Street Ward Club the success it is today – the largest and most vibrant of all City ward clubs.  Totally deserving a 9.93/10, and that remaining 0.07 is really just there to give future chairmen something for which to strive.
Little did I think back in 2004 that nine years hence I might be representing our ward as Alderman.  May I thank so many of you for your encouragement over the years.  Behind all the pomp and circumstance, an immigrant such as I can attest that the true City consists of "Dictum Meum Pactum" within an open and tolerant community of people.  I look forward to continuing to work with you for the future of Broad Street Ward Club.  May I ask you to rise and toast with me, 'To the continuing success of the Broad Street Ward Club and her Chairmen!'"