"Life is Wonderful: Mandela's Unsung Heroes" is a documentary film by Sir Nicholas Stadlen, former judge of the High Court of England and Wales. He captured the personal experiences of the last remaining trialists and their defence lawyers, sharing the human stories and the legal arguments used in the Rivonia Trial. A wide team of people organised a 'once in a lifetime' opportunity for participants to understand the complexities of the times and to engage with Sir Nicholas Stadlen, who had much to share that did not make the final cut. Then we had a 'second in a lifetime' event…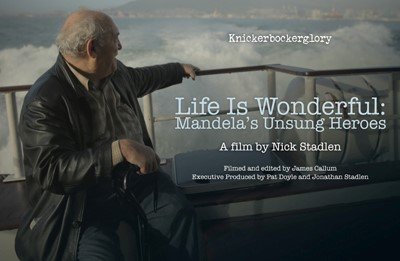 The event was first aired on 18 November 2020 as part of our 'outreach' on the 'rule of law', as well as diversity. Attendance on the night was 295 screens, many of them with couples and families. Our estimate was that 500 people watched.
We had so many requests for a second showing that Sir Nick kindly permitted a second showing on 11 February 2021, or as we billed it, "Back by popular demand for a second one-time showing". Attendance on the night was 166, and we estimate about 250 people watched that time. Given we couldn't have actually had 750 people at the Old Bailey for a film, despite the size of the Central Criminal Court, at least there was a small bonus from covid-19 home-viewing that so many people could see such an important film. Sir Nick's objective is to show this film to all students in South Africa, and you can support his work here.
Both events were run for free with support from the South African Chamber of Commerce and Z/Yen Group. As for the team, a hefty crew:
Sir Nicholas Stadlen, QC
The Rt Hon The Lord Mayor Alderman William Russell
The Recorder of London, Mark Lucraft QC
Alderman & Sheriff Professor Michael Mainelli
Sheriff Christopher Hayward CC
Alderman John Garbutt JP, High Sheriff of Greater London
Sharon Constançon, Chairman, South African Chamber of Commerce (UK)
John Battersby, Rian Raghavjee, Stuart Williams, and Stuart Round at Event Factory
Morgan Rose, Peter Welch, and Alex Kemsley at Z/Yen Group
On both nights, the agenda was:
18:00 Welcome by Alderman & Sheriff Professor Michael Mainelli

The Trial and its changing impact on South Africa – Sharon Constanҫon, Chairman, South African Chamber of Commerce
Address by the Rt Hon The Lord Mayor of The City of London, Alderman William Russell
Sir Nick Stadlen QC will explain the birth of the documentary

18:10 Film Screening – "Life Is Wonderful: Mandela's Unsung Heroes"
19:40 Responses to the film – Stuart Williams & Rian Raghavjee
Questions and Answers with Sir Nick Stadlen QC & John Battersby
20:12 Closing address from HHJ Mark Lucraft QC, The Recorder of London
20:15 Thanks and close from Alderman & Sheriff Professor Michael Mainelli
As well as numerous questions for Sir Nick during both evening, there were numerous emails afterwards:
"This was fascinating! Thanks for organising this."
"Thank you for a wonderful evening."
"What a wonderful film – thank you very much. Unbelievable how these men can forgive and live on."
"Thank you so much – inspiring."
"Outstanding evening. Thank you."
"Thank you so much – an extraordinary film of courage and the human condition at its best."
"I am a huge fan of well-made historical documentaries and found Sir Nicholas Stadlen's film inspired, educational, and uplifting. One can only hope that it has a similar impact on the youth of South Africa."
"I found the Rivonia Trail film absorbing, humbling and inspirational. We need to keep up the fight for law, democracy and facts. Thanks for the invitation. Keep protesting."
"Simply want to express my terrific gratefulness for this, for you, for all the heroes you featured and you might have featured, for all the lessons, and especially, for the hope."
If you would like to see the event recording (not the film, due to rights), it's posted here. Though the film retains its rights, the trailer alone is worthwhile: