EU Referendum – Strategy Thoughts
À La Recherche Du Temps Trouvé
For many months we have been discussing the EU Referendum.  Since 24 June we have been discussing even more fervently the result, to "Leave".  To get the obvious question out of the way, yes I voted "Remain", though recognising the need for EU reform, which still stands.  Now, our old positions so obviously need to be put behind us.  We all recognise the need to work together with others, going forward to create our common wealth rather than dwell on pre-Referendum days.  Personally, I turn to the question, "What Did You Do In The Brexit Daddy (or Granddaddy)?"
Since 24 June, the magnitude of change that the result may have unleashed is only beginning to dawn upon us.  The EU Referendum appeared to hinge around three core issues – sovereignty, economics, and immigration.  The ramifications of the result have destabilised the established UK political parties and perhaps the system, caused financial turmoil worldwide, and encouraged further changes across Europe.  But where there is change there is opportunity.
The opportunity to make major realignments in sovereignty, economics, and inclusion are real and potentially very positive.  We have the opportunity to consider significant improvements in the structure of government, taxation, regulation, immigration and visas, infrastructure, international relations, and much more.  It is heady, and perhaps dangerous, and an opportunity to improve things that rarely passes by.
This letter to The Economist on 9 July is funny, and I'm sure self-aware:
A new entry for the Oxford English Dictionary:
Plebicide n. the self-inflicted ruin of a nation's prospects or interests via a reckless act of direct democracy.
BRUCE STEEDMAN
St Helier, Jersey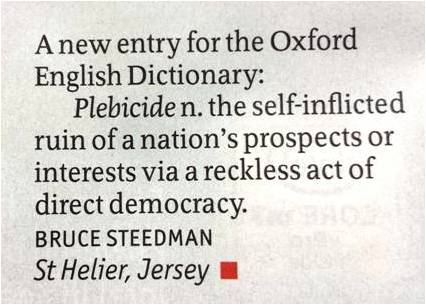 'Unity and Trade'
The City of London may have an important role in helping to unite the nation, and unite the nation with the world.  If we want to take bolder steps, we could create a more prosperous future for all.  We also need to replenish our reserves of goodwill.  I might emphasise two points for us, 'unity' and 'trade'.  The nation needs to be seen abroad as open, tolerant, and tolerably united.  That unity may mean pointing harder to the City of London's millennium-old role in forming new businesses and trade, rather than its recent (and in my opinion, inaccurate and unfair) association with a UK bank oligopoly.  Any nation that wishes to prosper must trade from an open and competitive environment.  Competition means that the state sector needs to be modest (taxation under control), that education is paramount, and that cartels, barriers-to-entry, information asymmetries, and agency problems are avoided.  Trade is the gateway to reaping the economic benefits of specialisation and comparative advantage.  What would constitute some bold steps? I thought I might note a few below.
Immediate
It has been disappointing to see how slowly so-called 'leaders' have come forward to recognise that EU nationals are valued members of the national community.  There have been some honourable exceptions, most notably the Mayor of London.  It has been heart-breaking to see the scale of hate-crimes the result has encouraged.  Things we could consider doing:
Sovereignty
The Guildhall Heritage Gallery currently displays a letter from John Hancock to John Wilkes, Lord Mayor from 1774-1775, that reminds us that the City of London has traditionally played a role in using its sovereignty to advance wider causes, often to the great long-term benefit of all.  Things we could consider doing:
Economics
It's not scare-mongering, it's real – we will lose some significant financial services business to other European centres.  Our core problem is now how we're going to attract new business.  As Z/Yen compiles the Global Financial Centres Index, from our relationships with other financial centres I know that several to many have been in London selling their jurisdiction to firms who need to leave – "just too many moving parts" one US firm said to me.  Things we could consider doing:
Inclusion
As an immigrant myself several times over, I feel this is the hardest area.  The spirit of the 2012 Olympics was that London was the world's city, the heart of the global community.  Our focus here should be on simplicity and speed.  Things we could consider doing:
Conclusion
The idea of listing the above ideas is not to bring chaos into disorder.  I would hope that some of the above thoughts spark further thinking.  I recognise that it is a long walk from a set of thoughts, to good ideas, to implementing just a few well.  But we do have a heck of an opportunity to implement perhaps some special few and perhaps explain to our children and grandchildren that we did do something for City and Country in the great EU transformation.  Anyway, "let's be optimistic, pessimism is for better times".
[1]  About 2.4 billion people worldwide lack official identification, about 1.5 billion over the age of 14.  While they certainly know who they are, they are excluded from market economy property ownership, and frequently free movement, social protection, and empowerment.  They cannot 'prove' their existence to the satisfaction of society's registries.  Lack of official identification increases remittance costs, corruption, and crime.  Insightfully, United Nations Sustainable Development Goal 16 "Peace, Justice And Strong Institutions" contains target 16.9 to "provide legal identity to all, including birth registration, by 2030". See also Z/Yen's work on IDchainZ.