Every other year the City of London hosts the British Red Cross Christmas Market at Guildhall. For 2017, the Guildhall Christmas Market will take place on Monday & Tuesday, 27 & 28 November.  Monday is a gala preview evening with a Royal visit.  It costs £40.  The market is open to the public Tuesday from 10.30 to 20:00pm. Tickets are just £5 and include a complimentary glass of wine.
This unmissable shopping experience will feature over 100 retailers, live music, and fun events. Be sure to pop into the indoor food market, outdoor German market, affordable art market, designer pop-up shop with unrivalled discounts, plus food and drinks workshops and tasting sessions.
This year it's Elisabeth and my turn to co-chair the event.  We are actively looking for sponsors of all kinds, and the sponsorship package ideas are here – Christmas Market 2017 – sponsorship.  For example, you can:
be a Headline Sponsor (great association for large corporates), a Royal Reception Sponsor, a drinks sponsor, a Weihnachtsmarkt Sponsor (great for German or Austrian firms), a Foodiefest Sponsor (for catering and related trades);
donate an 'experience' such as a tour or work experience, or objects of value to the Silent Auction;
donate art to the Affordable Art Market;
or give a donation to help the British Red Cross.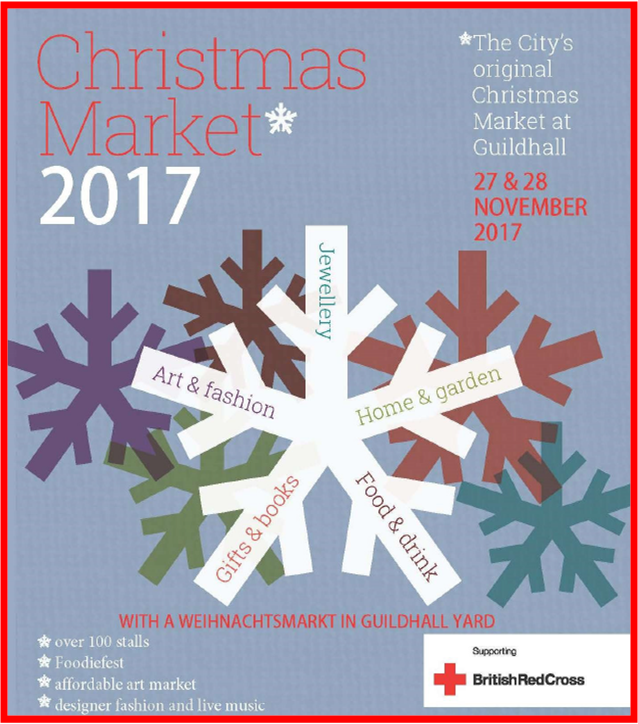 Whether you need to do your Christmas shopping, fancy enjoying a gluhwein or want find a designer bargain, make sure you visit this exciting Christmas Market, based in the heart of the City of London.  A Weihnachts Market in Guildhall Yard will also be open to spectators during the evening, where they can witness a spectacular demonstration from the Company of Pikemen and Musketeers.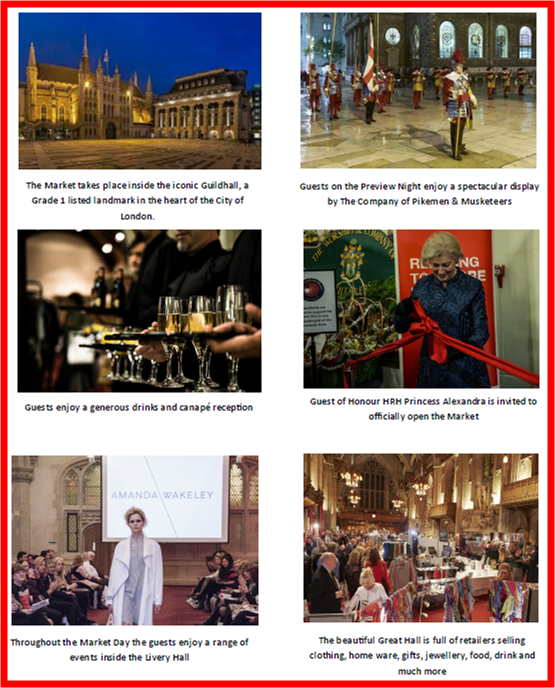 More Information
Date: 27 November 2017 to 28 November 2017
Preview Evening: 27 November 2017: £40 (Includes re-entry on 28 November)
Public day: 28 November 2017: £5 (Entry is free after 5pm)
Add ons on the Public day:

2 course set Christmas Lunch 12.00 – 2.30 £20
Champagne afternoon tea 3.30 – 5.30 £20
Workshops £5 entry on the day
Tickets will go on sale from September 2017 
Address: Guildhall, Gresham Street, London EC2V 7HH
Contact: Laura Deacon
Telephone: 0207 877 7606
Email: ldeacon@redcross.org.uk