Well, it's certainly been a busy year, selling Lady Daphne, running Christmas markets for a few thousand of our closest friends, travelling, publishing, and even running a business.  So becoming Master of the World Traders is pushing things a bit, but what fun!
The first month in office as Master has been thrilling. My diary notes over 25 separate World Trader events or meetings.  The picture below is from our Company Christmas party at Watermen's Hall on 7 December.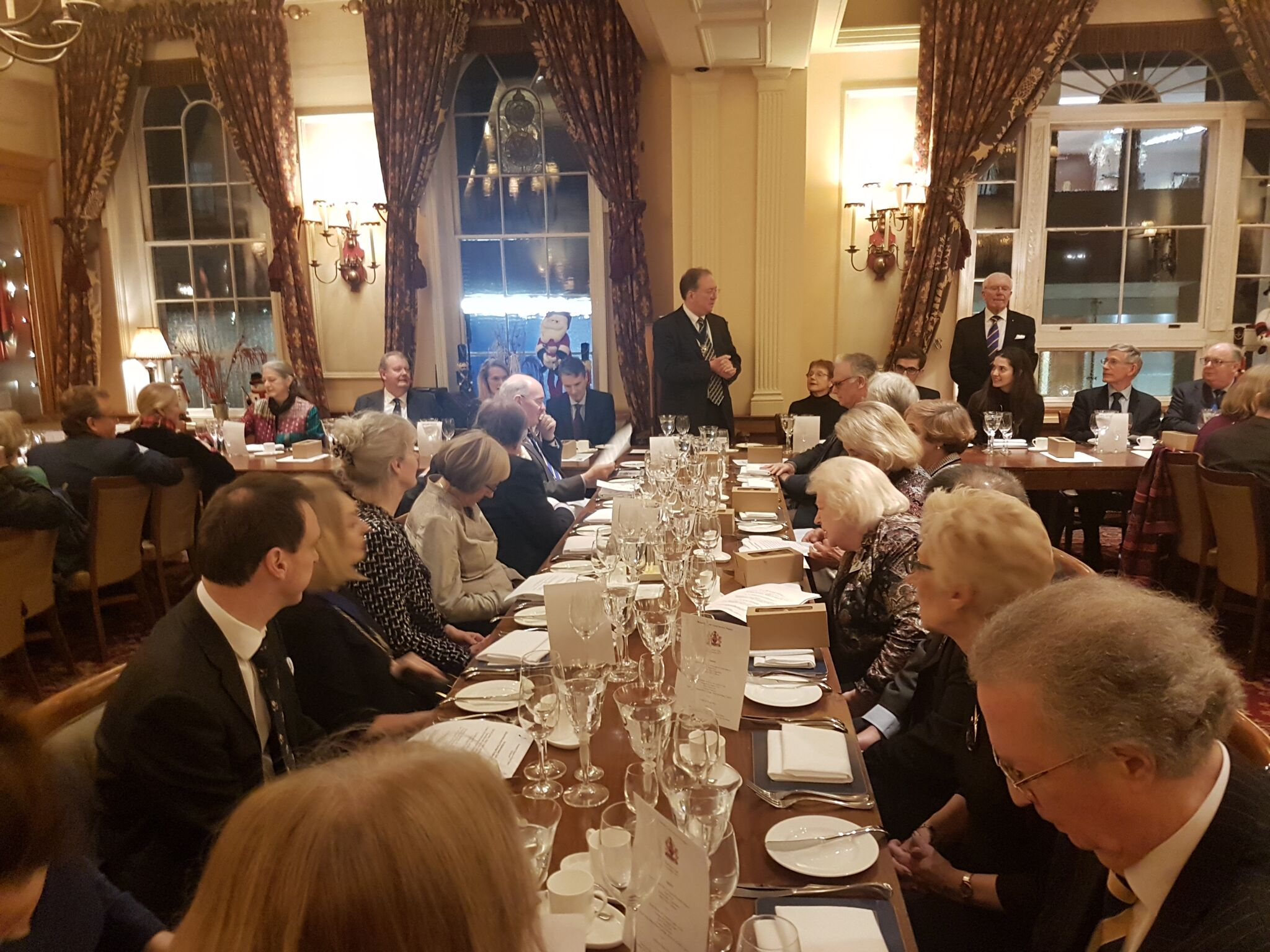 We had a  wonderful Carol Service on 7 December at All Hallows by the Tower. The choir, led by Mary Hardy and Norman Rose, performed a wonderful set of carols reflecting on my family's Italian, German, and shipping background. There were some genuine tears. We hosted the event jointly with the Guild of Entrepreneurs, a deepening friendship there.  Sadly, it was the last one with our Chaplain, Rev'd Bertrand Olivier.  Bertrand has been Vicar of All Hallows by the Tower since 2005, but leaves on a great promotion to be the next Rector of Christ Church Cathedral and the Dean of Montreal (Québec, Canada).
Afterwards, we adjourned to some excellent drinks and goose at Watermen's Hall. We even sang our own faux Globemongers' Carol, opening with "God rest ye Merry, World Traders, lest Brexit ye Diss-May; Remember refer'nda, don't ever go away". Everyone left in a great mood, strangely clutching smouldering gifts of little red fishermen. Sehr gemutlich!
And that carol text in full:
The Globemongers Carol
(Sung to the tune of "God Rest Ye Merry, Gentlemen")
God rest ye Merry, World Traders, lest Brexit ye Diss-May
Remember refer'nda, don't ever go away
To save us from the Corbyn's pow'r, yes we have gone astray
Four tithings of EU and tax, EU and tax
Four tithings of EU and tax
But here at Watermen's Hall, we all are castaways
Remember Christmas parties, all end in disarray
Don't save yourself from dining's power, you might as well a'stray
O tidings of bromo and fizz, bromo and fizz
O tidings of bromo and fizz
From year to year we reappear, and wonder all the same
How to sell incense and planets, for that's our Company's game
The Ever Insane Globemongers, could be our newest name
O tidings of toil and play, toil and play
O tidings of toil and play