Connect To Prosper – the City of London's Square Mile is the world's coffee house where people bring their dreams to get them realised.  Over 40 learned societies, 70 universities, and 130 research institutes surround the City.  Our workforce is as much science & tech as finance.   We have 'knowledge miles' of art, media, culture, engineering, research, accounting, law, banking, shipping, insurance, and investment management. Realising dreams involves everything from the creative and technical start to the support of professional and financial services. Why do knowledge miles matter?  Because the world's most productive concentration of connected knowledge networks solves problems, most notably the Sustainable Development Goals (SDGs).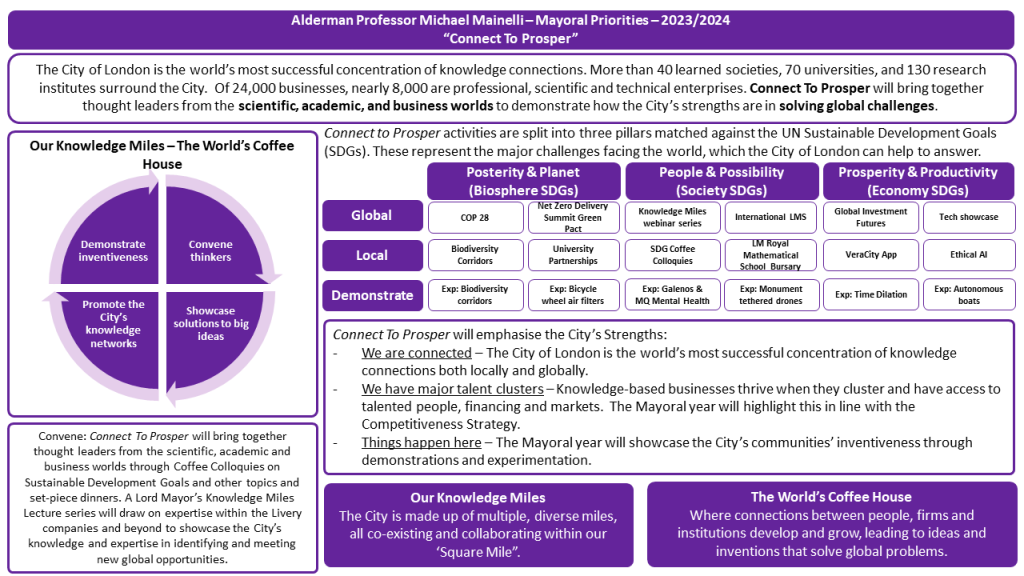 Connect To Prosper follows and builds on Alderman Vincent Keaveny's theme of "People & Purpose" as Lord Mayor 2021-2022 and Alderman Nick Lyon's theme of "Financing Our Future" as Lord Mayor 2022-2023:
•On Commerce, reinforce our knowledge networks, strengthening ties with leading research, science, technology, and deep infrastructure developments internationally.
•On Community, integrate many networks from science to finance, the Commonwealth, Chambers of Commerce, and the livery, in common purpose, alongside government departments and initiatives directed at advancing knowledge, solving problems, and increasing trade in goods, services, and ideas.
•On Charity, the Lord Mayor's Appeal's and Mansion House's voluntary and NGO machinery promotes the inclusive, healthy, skilled, and fair City we all seek, with a strong focus on education and mental health.