On 24 June at Common Hall Chris Hayward CC and I were delighted to be elected Sheriffs to take effect at our installation on 27 September. Here we are pictured outside Cutlers' Hall with our wives Alex and Elisabeth as we toured nine livery companies in ninety minutes to thank the nearly 1,400 people who turned up to vote!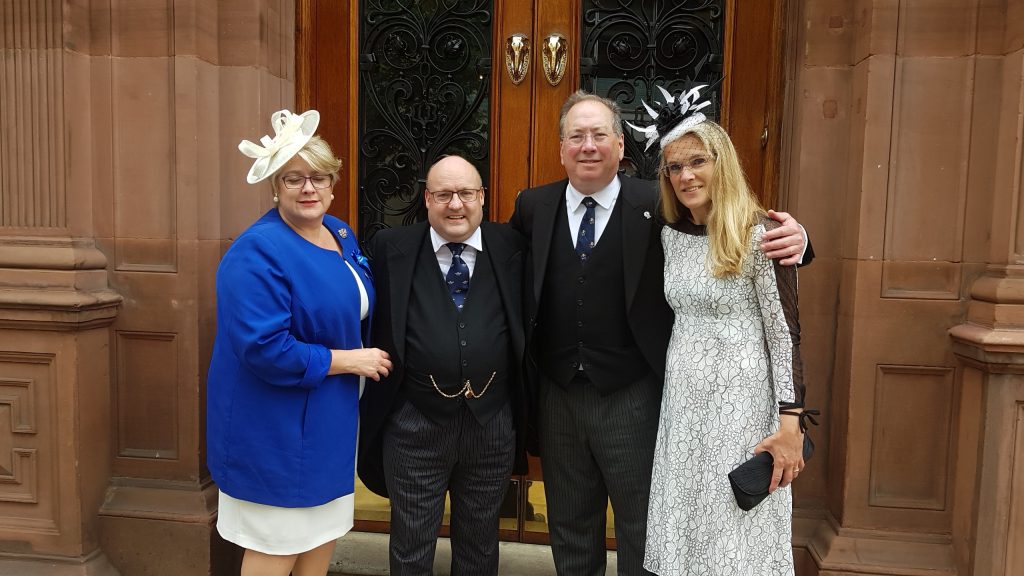 The City of London Corporation Press Release provides more detail.
The traditional Chain Appeal has begun. The objective is to raise money for the chain and badge, and get a significant surplus for the Sheriffs' and Recorders' Fund that helps prisoners and those who have been released. If you are able to donate I'll send a note by return with an invitation to come to the presentation ceremony on 19 September at noon at the Dutch Church in Austin Friars:
My electoral address was as follows:
Fellow Liverymen,
The Almighty has many ways of guiding us. As I stand before this august traditional assembly in a violet gown, I realise that "Common Hall is God's way of teaching Americans history."
Though I have the support of the Court of Aldermen, I'm asking you directly for your vote today for the office of Sheriff of this great City.
I came to this City as a scientist to computerise finance in the early 1980s. I have watched the City grow and change for nearly four decades. In six years as Alderman I've served on influential committees, worked on our strategic plan, championed pedestrian space, and pushed for air quality. I've served charities, such as Christ's Hospital, Morden College, Gresham College, Goodenough College, City & Guilds, and belong to four liveries. I've built a renowned City business. I like to think I know the City reasonably well, yet God always seems to have so much more to teach.
Our country and our city face great challenges. Our globe is simultaneously more inter-connected and more fractured. We've rarely had greater opportunities for trade and growth since the Great War, or greater risks.
As part of the Central Criminal Courts and Civic teams, a Sheriff is about dressing. No, not dressing up; more like dressing a salad. In this challenging world, the Civic team mixes various oils and waters to make richer connections for all. It is not 'business as usual'. My letter to you speaks of my desire to champion the three emulsifying agents of Commerce, Community, and Charity.
commerce – creating prosperity for all. The livery delivers trade connections, hosts delegations, and guides the Civic team, for example the Financial Services Group of Livery Companies;
community – enriching our environments. Our Pan-Livery approach must achieve more inclusivity, more diversity, connecting nationally as the Brigantes are doing, and connecting internationally such as the Air Pilots have done.
charity – sharing success. We need to work together laying down enduring commercial, cultural, educational, and caring ways to support all who need it in a fair, inclusive, healthy, and skilled City.
My wife Elisabeth and I have an international perspective, complete with accents. We would count it a privilege to use our experience passionately promoting the UK in all aspects, professional, business, legal, technical, and financial. To sell not just a global centre, but THE global city, and THE global UK, open, tolerant, and connected.
Many national constitutions guarantee freedom of speech, but only a few guarantee freedom after the speech – and now you're free of mine.
May I thank so many of you for your encouragement to stand. Fellow Liverymen, I humbly ask you to join with the Court of Aldermen and raise your white card for my election to the great and ancient office of Sheriff of the City of London.
Thank you. Fellow Liverymen.

… while my acceptance speech went as follows:
My Lord Mayor, My Fellow Liverymen,
It is with great anticipation, and an even deeper sense of history, that I wholeheartedly accept the office of Sheriff of the City of London. I intend to discharge this office with honour to the betterment of this fantastic City of ours. I look forward to working with the Recorder, Common Serjeant, Judges, and team at the Central Criminal Courts at Old Bailey. I also look forward to working with the Lord Mayor and the Civic team.
May I take this moment to thank so many of you all for your encouragement, my fellow liverymen, my fellow Aldermen, my colleagues at the Corporation of London, my predecessor at Broad Street Ward, David Lewis, my election agent Ruby Sayed, and my wife Elisabeth.
At his inauguration Thomas Jefferson promised – "Commerce and honest friendship with all." I do too.
Thank you. My Fellow Liverymen, My Lord Mayor.