I finished my year with a fantastic "Master's at Home" event at Gresham College. The evening was given some extra zest by the appearance of the Lord Mayor's Sheriffs, Elizabeth Green and Alderman Vincent Keaveny to receive a cheque for the Lord Mayor's Appeal.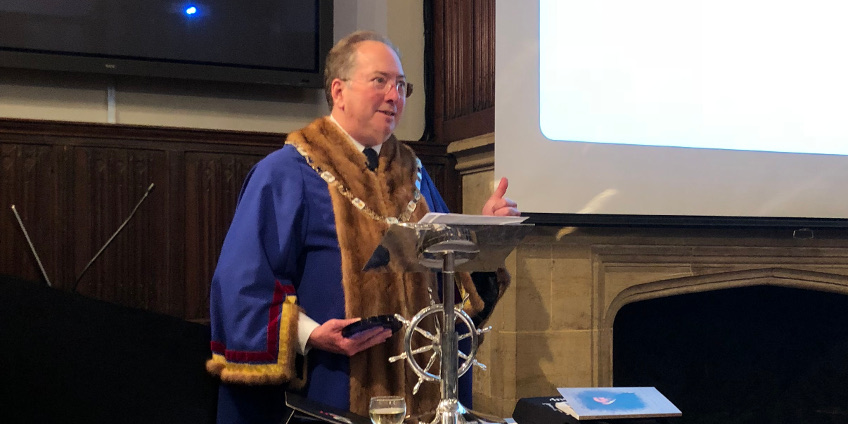 While I gave the committee chairs gifts as a token of my appreciation, we also gave Gaye Duffy, our Learned Clerk, a gift and thanks in honour of her ten years of service and support during the Master's year.
As my master's gift to the Company I was pleased to hand over a beautiful lectern, made by Tim Lukes who previously made the staff belonging to the World Traders' Beadle, commissioned by Past Master Wendy Hyde. The lectern is inscribed "Veritatem loquar hominibus et potentibus". "Speak truth to all men and powers". Freeman Robert Pay (based in New York) and Mercer Anthony Hodson helped me with translating the quotation appropriately, derived from the traditional Quaker phrase, "Speak truth to power".
With the speaker of the evening's short lecture on Sir Thomas, Dr John Guy to promote his forthcoming book, stricken by illness, we had no one to use it. Of course, putting a lectern in front of a Professor is asking for trouble. I really wanted to 'take it out for a spin' and adjusted the wheel.
Then, opening with a reminder that this was a 'Technology & Trade' year, I inserted the blue dilithium crystal to turn the lectern on and started talking.
All right, I may have spent the day preparing…
Gresham College was an extremely hospitable venue at which to mark the culmination of a varied, stimulating and exciting year, where accounts of historical figures have rubbed shoulders with exploration of the latest technology.