Remarks to:

Worshipful Company Of Wax Chandlers
Alderman & Sheriff Professor Michael Mainelli FCCA FCSI(Hon) FBCS, Wednesday, 8 January 2020, Wax Chandlers' Hall
"Bees Repaired"
Master, Wardens, Liverymen, Fellow Guests:
I was delighted that your Master invited Elisabeth and me today. It's a special honour to be asked to address you in one of my favourite livery halls, a "sehr gemutlich" hall as we said in Germany last week.
This is a great year in the City for the Wax Chandlers and bees as the Lady Mayoress has brought bees back to Mansion House, with hives shaped like mini-Mansion Houses.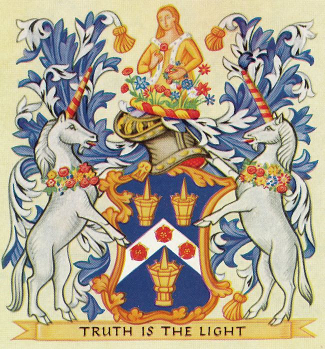 You wouldn't know it, but I come from a family of bee-keeping tycoons.  Back in my teens in Florida we ran a large number of hives in the orange groves and palmetto swamps.  My version of events runs … Two beer-swilling defence aerospace engineers, one being my father, decide to exploit an agricultural tax wheeze to make money in their moonlight hours.  Hijacking the name of my youngest sister, Molly Bridget, they create "Molly B Apiaries".  This out-of-hours lark grows rapidly to 300 hives acquired for tax purposes as they extend their operations through ruthless takeover bids, oppress bee colonies for their twisted commercial ends, extort pollination charges from local growers, and exploit forced child labour, me.  Through a 14 year old's beekeeper veil dimly I remember smoking and extracting from under three layers of clothing (too cheap to buy a beesuit for slave labour) in 40 degree heat and 99% humidity, possibly why to this day I'm not a fan of Finnish saunas.  Like the closing moments of a film, and almost all tax subsidies, they wind up distorting the local economy, don't make that much money in the end, and, while they learn a lot about life and family, never found out what to do with the mead.  I too learned a lot about commerce, life, and bees, but like any good high school teenager even more about booze.  My school friends and I probably knew more about what to do with mead than your average 10th century teenagers.
Now your Master asked me to talk about Green Finance. I was a bit surprised but was happy to give a speech about her [Master Sue Green] family bank accounts and insurances until I realised she wanted a speech about the global environment and the City of London. A sort of "what did you do in the environmental wars, Alderman?". It's a great question and one close to my heart.
Over Christmas I read Andrea Wulf's biography of Alexander von Humboldt who in the early 1800's listed three ways in which people were affecting the climate, specifically deforestation, ruthless irrigation and, perhaps most prophetically, the 'great masses of steam and gas' produced in the industrial centres. Jumping forward I had my first climate change debate in the City in 1984 with fellow research analysts. This shouldn't be surprising. A bunch of bright analysts, we had Arrhenius's thesis from the 1890's, a well-known negative externality, smoke and pollution (interestingly the well-know positive externality is bees and pollination), and increasingly compelling science. That 1984 debate ended where it would end this afternoon – does society really want to pay?
Now, biologists track indicator species obsessively. Indicator species are organisms—often a microorganism or a plant—that serves as a measure of the environmental conditions in a given ecology. Megafauna – dolphins, whales, elephants, pandas, otters – are all well and good for fundraising and can be indicator species, but deeper health is often lichens or moss or burrowed beneath the surface as worms or mycelia. Bees are often considered indicator species.
Z/Yen and Long Finance's core question is "when would we know our financial system is working". Why not think of the City of London as an indicator species. Our luncheon question is "How well is global finance, our indicator species, doing for the global environment?"
Strictly, I'm very proud of the City of London Corporation here. In Kyoto in 1997 the world decided on emissions trading. It was the Corporation that created a shadow market in 1999 for later adoption by UK government and the EU, launched as the Emissions Trading System in 2005. In 2007 Long Finance published a 780 page landmark report, "The London Accord", at Mansion House. We created the "Burn-It-All" project that initiated "unburnable carbon" discussions that led the Bank of England to invoke financial instability as a reason to pay attention to climate change, the "stranded assets" debate. We made submissions to the Copenhagen COP in 2009.
Your Court Assistant and former Lord Mayor Fiona Wolf did much during her term to promote "Financing Tomorrow's Cities" research on new mechanisms for funding sustainability. Currently, former Lord Mayor Sir Roger Gifford champions the annual Green Finance Summit and the Green Finance Institute co-funded with central government. Locally too, whether it's waste, water, air quality, energy, or transportation, I can assure you the Corporation tries very hard.
But the indicator species question is really addressed at financial services as a whole, not the Corporation or Long Finance. Some bad news. While global annual external renewables investment improves every year, it's a mere US$70 billion, and, despite the marketing hype, power company capital spending on renewables has remained less than 1% of that for fossil fuels. We've had surges of environmental interest before, pretty much every nine years since the original Earth Day in 1970 – 1988, 1997, 2006, 2015. But the minute there's a crunch, green finance falls to the bottom of the pile. It's almost a luxury good.
People ask, am I optimistic or pessimistic? Optimistic of course, pessimism is for better times. And truly our indicator species has some good news, beyond marketing hype. With more time we should look at the time-tested IPAT equation – Impact = Population times Affluence times Technology – and explore the role of overpopulation, but in truth, in terms of environmental impact per person globally, things are improving.
Energy Return On Investment (EROI) ratios matter. Renewables have climbed remarkably to about 10:1.[1] Old estimates for fossil fuels were as high as 25:1, but as oil & gas get harder to extract they have fallen to 6:1, and potentially as low as 3:1 in the case of electricity. In 2018 the ratio of renewable new capacity to fossil fuel new capacity was 1.6 to 1.[2] The fight is getting fairer, though subsidies matter too.
Markets are paying more attention to long-term themes and creating 'environmental, social, and governance' vehicles for such investment, ESG vehicles. We have ESG vehicles such as Exchange-Traded Funds that can follow a theme like water, timber, or fish. I have reservations about 'greenwashing' in many green bonds, but a pet idea of mine, policy performance bonds, tying interest payments to environmental outcomes, have now been issued by ENEL, Nokia, and Louis Dreyfus. The UN Sustainable Development Goals are being tied to bond rates and forming a useful framework despite a rocky start five years ago. Recent studies estimate that with no technological advances at all till 2050, we can meet over 70% over our carbon targets. We may be pulling out of a dive.
Many green finance issues are actually about valuing volatility reduction. Equally, reducing volatility is related to resilience. Valuing volatility reduction favours longer-term renewables over fossil fuels; favours an energy storage market; favours recycling. Derivatives are about valuing volatility. So, quietly, the earthworms of finance are doing great good over long periods.
As a World Trader, you expect me to try and sell you a planet, but even I know it's not about sales and finance as much as changing the behaviour of nearly 8 billion environmental problems. When we say people don't want to pay for it, we equally mean people don't want to change their behaviour. And, oddly, that makes me positive about Brexit. An analyst's view of Brexit might have four quadrants. Two axes – change or no change, and good or bad change. Change is a certainty now. Our job is to take the opportunity to make that change good. We will lose a lot of oversight from Europe on our own performance, which we have often needed on water quality, food standards, fishing, or emissions. We will need self-discipline, not banana republic decisions. But we have huge opportunities, such as an ability to simplify and rebuild our tax system perhaps using land value taxes, to issue a national policy performance bond against our 2050 zero emissions target, or to build an energy storage network to strengthen our grid and put renewables on an equal footing with fossil fuels, without subsidy. Your Master reminded me that we have an opportunity to create new agricultural subsidies that don't harm the environment.
I was a keen Eagle Scout and Assistant Scoutmaster, so can relate the story of a scoutmaster and his wife driving through lonely countryside. She honks the horn repeatedly to clear the sheep. The horn breaks. She gets out, lifts the bonnet, and comes back, "the horn is completely smashed". The scoutmaster gets out, lifts the bonnet, and comes back, saying proudly, "beep repaired!"
So when is our indicator species of finance working? I would say when our planet has "bees repaired" and we don't need to ask for talks on green finance. If markets priced the externalities, then the monetary and financial systems should be producing the right decisions. We can't have it both ways – claiming the market is always right then claiming we need 'special' green finance to fix it. If we genuinely 'need' activism, that should terrify us. It tells us the markets aren't working. We've sold society a dream based on a theory. To move towards that dream we have to work together building open and competitive financial services markets that price externalities, and save the planet.
I'm delighted to propose a toast to "The Worshipful Company of Wax Chandlers, root and branch, may it flourish for ever".

---
[1] https://www.sciencedaily.com/releases/2019/07/190711114846.htm
[2] https://blogs.platts.com/2019/03/25/global-renewables-growth-outpaces-fossil-fuels/