Chairman, Past Chairman, Aldermen, Ladies & Gentlemen
When John Scott asked me to address this Committee and its many supporters on behalf of the guests in honour of its Past Chairman at this farewell do, I was greatly honoured.  Sidney Joseph (S J) Perlman wrote for the New Yorker and also for the Marx Brothers.  A copy of Perlman's 1929 book, Dawn Ginsbergh's Revenge, was sent to Groucho Marx.  Groucho sent Perlman a letter that said, "From the moment I picked your book up until I laid it down I was convulsed with laughter.  Someday I intend reading it."  [quoted in LIFE, 9 February 1962]  John Scott may wind up paraphrasing, "from the moment you stood up till the moment you stood down, we were convulsed.  Someday we'll get Lisa Jardine."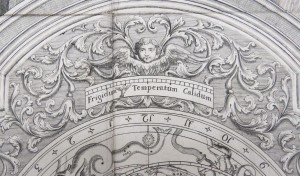 [http://guildhalllibrarynewsletter.wordpress.com/2013/12/03/clockmakers-library-exhibition/]
I learned history in the United States.  Thus I know two big historical facts about libraries.  First, Benjamin Franklin invented the library.  Second, we lost a lot of books during the Civil War when the great library burned down in Alexandria … Virginia.  Imagine my surprise on arriving in London to find that libraries, even lending libraries, pre-date Franklin, who quite probably visited the Guildhall Library.  Imagine my even greater surprise to find that the Virginians have rebuilt their Bibliotheca Alexandrina in Egypt.
We're all book addicts.  I read too much, carry a Camomile Street card, even founded and sold a multi-lingual children's book publishing firm.  I've browsed Harvard's Houghton rare book library for Martin Luther's thoughts on intellectual property, and toured the wonderful gem of Thomas Plume's library in Maldon where my children were shown sixteenth century prints of rhinoceri.  Our family checks out talking books from the Barbican while I delve in the Guildhall on Gresham College or the City digital archives on Thames sailing barges.  Yes, we're all addicts.   Claire Scott and I sympathise with Groucho Marx – "I find television very educational.  Every time someone switches it on I go into another room and read a good book."  Though an art philistine, I'm forever telling friends to borrow my visitor's card to the Guildhall Art Gallery.  A while ago, as one wag put, "the Guildhall Art Gallery was the only public art gallery in London where everyone got a private viewing".  Today, thanks to this Committee's work, the Gallery reaches more and more people as the City opens up to visitors, rather than closing in due to the financial crises.
Yet … asking friends about libraries for this lecture elicited immense support, but a paucity of recent visits.  Some years ago I hosted a dinner for a man with a strange accent, Loyd Grossman.  As well as his sauces with a distinctive voice, Loyd is known for his work on museums and questioned whether museums were "Temples of the Muses or Temples of Amusement".  Everyone loves museums in the abstract, but in practice?  Last year our family added a Kindle and an iPad last year to our menagerie of gadgets.  Both have filled up with our-children-ought-to-read-these books Elisabeth and I treasure.  And this affects libraries.  Libraries and archives are loved in abstract, but attendance and usage drift in these days of "never judge a book by its movie".  [JW Eagan]
Perhaps libraries and archives are never more loved than as metaphors.  Jorge Luis Borges was director of the Argentine National Library.  He remarked, "if I were asked to name the chief event in my life, I should say my father's library".  Borges' famous short story, The Library of Babel, postulated a vast library containing all possible '410 page' books, inspiring numerous philosophical musings, such as how libraries explain Bertrand Russell's paradox on mathematical sets – where do you catalogue the catalogue of all catalogues that don't list themselves?
The British statesman Lord Palmerston must have visited many libraries to become an expert on the enigmatic Schleswig-Holstein problem of the mid 19th century.  Palmerston said: "Only three people have ever really understood the Schleswig-Holstein business – the Prince Consort, who is dead – a German professor, who has gone mad – and I, who have forgotten all about it."  In the age of the internet, libraries, archives and art galleries everywhere pose riddles of Schleswig-Holstein complexity.  According to W V Quine, the renowned Harvard philosopher, Borges' infinite library can be created simply by writing a dot on one side of paper, a dash on the back, and then randomly flipping till the end of eternity.  Bits and bytes are our challenge.  Our pressing paradox is that until some desperately distant time in the future, we need to preserve the past today.
Libraries and archives serve at least three functions – building communities of learning, providing information services, and supporting research.  All of these are important to us, and all are in flux.  But I would like to emphasise a fourth function that this committee exemplifies.  Experimentation.  Notwithstanding our shared fondness for cellulose information storage, this committee's legacy will be its experiments.  Whether trialling DVDs or internet access, testing new working methods, building European Visual Archives, or striking innovative deals with Ancestry.co.uk, this Committee has shown daring.  And while he or she who dares does not always win, they are remembered.  Libraries and archives will change – and this Committee has helped them learn how.
Seneca believed in this form of remembrance: "Why do you ask, how long has he lived? He has lived to posterity." ["Quid quaeris, quamdiu vixit? Vixit ad posteros."] (Lucius Annaeus Seneca), Epistles (XCIII)  Preservation is key, but your true legacy is what you dared to try for posterity.  Sometimes posterity is high-brow, from new insights on the origins of science to rediscovered musical scores.  Sometimes posterity is low-brow – C J Sansom's best-selling crime series set in the reign of Henry VIII features a hunchbacked lawyer in Lincoln's Inn, Matthew Shardlake.  Shardlake has to rely on the Guildhall library to solve cases.  Someone in the 16th century experimented with letting lawyers in.  Now that was daring.
We've had a great evening with fantastic food, wonderful music and fine hospitality.  This is not a wake, more a celebration around a blazing phoenix – I expect much to arise from this Committee's legacy; so I shall end with a quote from Teddy Roosevelt that exhorts your successors to experiment even more – "Far better it is to dare mighty things, to win glorious triumphs even though checkered by failure, than to rank with those poor spirits who neither enjoy nor suffer much because they live in the gray twilight that knows neither victory nor defeat."
May I ask all guests to be upstanding as I propose a toast to our hosts – "To the Libraries, Archives and Guildhall Art Gallery Committee – Literature and the Arts."