For over two decades my great sailing buddy Axel has gone on and on about Helgoland, sometimes rendered in English as Heligoland.  The wonderful sail, the interesting tides, the fantastic island, the duty free.  But for those two decades and more, the weather isn't quite right, the tides don't favour us, or Kieler Woche calls.  I long ago started calling it "Never Never Land".  But J M Barrie might be proud of this shot finally approaching the island – "Second star to the right and straight on 'til morning. "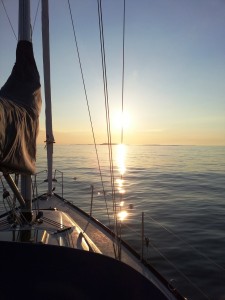 Helgoland is a small German archipelago in the North Sea. Formerly Danish and British possessions, the islands are located in the Heligoland Bight in the south-eastern corner of the North Sea. They are the only German islands not in the immediate vicinity of the mainland and are approximately three hours' sailing time from Cuxhaven at the mouth of the River Elbe. In addition to German, the local population, who are ethnic Frisians, speak the Helgolandic dialect of the North Frisian language called Halunder. Helgoland was formerly called Heyligeland, or "holy land", possibly due to the island's long association with the god Forseti.
The long accretion of fortifications is well worth the visit alone – tunnels, submarine bases.  There is also extensive wildlife with seals so calm around humans that they just sit and stare at you.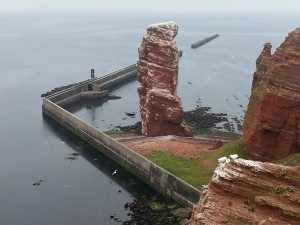 At the end of the 18th century, the English supported Helgoland smuggling when such activities harrassed Napoleon.  After England took proper possession in 1807, much of the population perished of starvation as the English stamped on smugglers.  In 1890, Helgoland was swapped with Germany for Zanzibar.  Then in 1945, the English took possession again, deporting all the islanders.  From 1945 to 1952 the uninhabited Heligoland islands were used as a bombing range. On 18 April 1947, the Royal Navy detonated 6,700 tonnes of explosives ("Big Bang" or "British Bang"), creating one of the biggest single non-nuclear detonations in history.  The blow shook the main island several miles down to its base, changing its shape (the Mittelland was created).  Possibly due to this history, during my visit,I seem to have forgotten to mention I was visiting from London.  It was a magical island and the people were most hospitable, though not worth the wait.  We should have also gone twenty years ago.

This rhyme about their flag is well-known in Germany:
German
Low German
North Frisian
English
Grün ist das Land,
rot ist die Kant,
weiß ist der Sand,
das sind die Farben von Helgoland.
Gröön is dat Land,
rood is de Kant,
witt is de Sand,
dat sünd de Farven van't Helgoland.
Grön es det Lunn,
road es de Kant,
witt es de Sunn,
det sen de Farven van't Hillige Lunn.
Green is the land,
Red is the cliff,1 
White is the sand,
These are the colours of Heligoland.1 lit. "edge" or "coast"