One of the joys of restoring a Thames Sailing Barge, our beloved S B Lady Daphne, is racing her.  Racing her?  Indeed.  Thames Sailing Barge racing is the oldest continuous boat racing in the world and, despite the size, slow turns, and wide tacking angles, possibly the hardest in the world.  There is a full set of races each year off the east coast of England masterminded by the Sailing Barge Association.  On Sunday, 24 August, we were racing off Southend-on-Sea, passing by its famous pier, sometimes quite closely!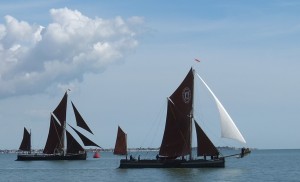 I have written a bit about this racing in the past:
And a lot more is contained on the Lady Daphne news area.  This year we managed to win the second place trophy in our class, but the privilege of racing continues to astound us.  And for those of you who know Southend, you'll have to admit that it's a special group of boats that can make the town look this pretty!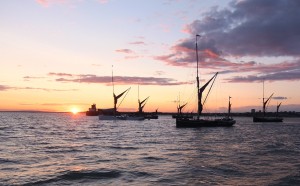 [photo courtesy of Mark Duff]