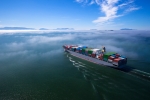 This month we, the Trustees of Gresham College, hosted the Lord Mayor's Gresham Event at Guildhall (he or she is our President!) … http://www.gresham.ac.uk/london-the-global-maritime-centre-in-a-changing-world
London – The Global Maritime Centre in a Changing World
 

Thursday, 28 January 2016 – 6:00pm, 

Guildhall
THE LORD MAYOR'S ANNUAL GRESHAM EVENT – Introduction by the Lord Mayor of the City of London followed by a symposium
London's maritime cluster is a tremendous success story. While the docks have migrated out of the centre and international dominance has been challenged, London remains an enormous shipping centre, perhaps the world's largest.
From the Baltic Exchange and the shipbroking community to shipowners, insurers, commercial and investment banking, trade finance, commodities, legal and accountancy services – the scale of modern maritime London is awe inspiring.
London is a leading place for specialist education in these areas and also has unrivalled expertise in the provision of services to the global shipping community, including dispute resolution, class and survey work, as well as maritime innovation and technology. We will celebrate the achievements of centuries, and look forward to the challenges of centuries to come.
My Lord Mayor, My Lord, Sheriffs, Chairman, Distinguished Guests, Ladies & Gentlemen.   On behalf of the Provost, the Council, my fellow Professors and the Gresham Team I am pleased to welcome you tonight to our seventh Lord Mayor's Annual Gresham Event.
We are delighted that this lecture on "London – The Global Maritime Centre In A Changing World" will be given by the most distinguished Professor Costas Grammenos, Professor of Shipping, Trade and Finance at the Cass Business School, City University London.  Costas is also the Founder and Chairman of the Costas Grammenos Centre for Shipping, Trade and Finance.
Gresham College was set up as a result of the 1579 Will of Sir Thomas Gresham to provide free education for those who live and work in the City of London.  We are still interpreting Sir Thomas Gresham's Tudor will over four centuries later.  The Gresham College Group of the 1640s became the Royal Society.  The Royal Society was founded and housed at Gresham College until the Great Fire of London 400 years ago.  Over the centuries we have had distinguished Professors such as Henry Briggs, Christopher Wren, and Robert Hooke.
The range of issues with which education should properly be concerned, divinity, geometry, astronomy, physic, law, rhetoric, and music, has been extended over the centuries.  Since the last century, commerce, and all that goes with that, has been a focus for the Gresham Professors of Commerce.  Recently, Gresham College added environmental science, last year information technology.  The City evolves and Gresham College evolves with it but I still like to call us a Tudor Open University.
Of course one crude measure of our College's success is attendance.  Which reminds me to take the roll call for the register this evening.  Bowman?  Charles Bowman?  Rigden, Christine Rigden…
We can only accommodate just over 20,000 physical 'students' at our 130 or so lectures, so back in the 1990s we went online.  We have nearly 2,000 recorded lectures by the finest minds available to the world – an unrivalled global open source resource.  Each year we have hundreds of millions of website 'hits', but a more accurate measure is our 6 ½ million lecture views and downloads last year.  We are on course for even more in 2016.  We step forwards, having commissioned a major revamp of the website and app for this year.  We also step backwards, having commissioned a groundbreaking biography of Sir Thomas himself.
Tonight's event is a highlight in our annual calendar.  Our President, the Lord Mayor, has an intellectual event of his choosing.  As the The Rt Hon The Lord Mayor of the City of London, Alderman the Lord Mountevans, has an intense interest in shipping, it is hardly a surprise who chose tonight's topic.  Gresham College too has a strong shipping interest, from early lectures on logarithms, navigation and woodworm to over 300 online today ranging from slave ships and whale ships to lighthouses to shipbuilding.  As a gunrunner and spy, we even have a lecture on Gresham's armed Elizabethan Merchantman and the armada.  In a parallel universe somewhere Gresham College probably deploys submarines and an aircraft carrier or two.
Tonight's event wouldn't be possible without some special sponsorship, this evening from Financière de Courcelles, the French Mergers & Acquistions powerhouse with an extremely strong shipping team, and Caledonian MacBrayne, the UK's largest navy plying the waters off Glasgow.
The order of proceedings will be roughly this: our President shall set the scene, Professor Grammenos share his thoughts on "35 Years Of London's Maritime Cluster Through The Eyes Of An Academic", Dr Nikolas Tsakos, Chairman of Intertanko, will provide his thoughts from the industry by way of response.  We will then move to a panel question and answer session, chaired by Professor Heather McLaughlin of Canterbury Christ Church University and former Master of the Worshipful Company of the World Traders.  I slipped up as the programme says me, but you can relax as you're in Heather's far better hands.  Following the panel, I will say a few words in closing.  And now, I would like to surrender the podium to our President, The Rt Hon The Lord Mayor of the City of London, Alderman the Lord Mountevans.  Thank you.
http://www.gresham.ac.uk/london-the-global-maritime-centre-in-a-changing-world
[My vote of thanks]
Well, tonight shows too well that, with shipping, it's all in the delivery!"  And what great delivery.
There is little one can say or add to the fascinating presentations and panels that doesn't get in the way of direct discussion, so may I ask you to join me in thanking our speakers and our chairman.
May I also ask you to join me in thanking the Gresham team who have made all the arrangements, social and technical both online and offline.
As mentioned, tonight's event wouldn't be possible without some special sponsorship, this evening from Caledonian MacBrayne, and Financière de Courcelles, both of whom will be available during the reception they have kindly provided.
On behalf of the Provost, the Registrar, and all of us at Gresham College, may I equally thank you the audience for coming tonight.  I hope that those of you who are new to Gresham College do come to Barnard's Inn Hall at Holborn or the Museum of London for the numerous events we have planned with many fantastic speakers.  May you become, as I have, part of the magical community begun in 1579, over four centuries ago, by that notable man of commerce and founder of The Royal Exchange, whose legacy still inspires us tonight, Sir Thomas Gresham. I hope to welcome all of you back next year for the Lord Mayor's Annual Gresham Event.
There are tall ships and small ships, but the best ships are Professorships.  No wait, I meant, there are tall ships and small ships, but the best ships are friendships.  I hope all of our friends enjoy the reception that follows.  Thank you.