My remarks at the Guildhall for Football For Peace this evening:
Welcome, each and every one of you, to Guildhall, and to the City of London!
I am delighted to be representing the Lord Mayor this evening, not only at a dinner full of international friends but for a cause which we can all support – world peace. As an international Ambassador for the financial and professional service sector, much of the Lord Mayor's time is spent visiting and working with international officials to ensure prosperity, cultivate stability and harness peace across the globe.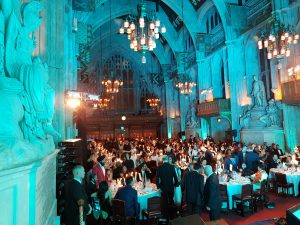 But we can't all be an Ambassador – and sometimes we must find other means to engage and develop with our global community. And what better way to do that than through a global sport, loved by an estimated 3.5 billion people around the world…
Football! A sport which, for decades, has united fans – in bars, pubs and cafés all over the planet!
It is a sport which thrives on diversity and interconnectivity – you'll be rare to find a team in the premier league which isn't supported in some way by an international player, manager or sponsor! And it is a sport which instils vital life skills in its players – skill such as teamwork, leadership and fairness.
These are the attributes of football which are promoted and cultured within Football for Peace's work – increasing international dialogue and communication through the beautiful game. And nurturing empathy and understanding for our fellow world citizens. Quite simply, promoting peace.
Thank you, Football for Peace, for all your fantastic work. May I wish everyone here a most enjoyable evening.