Over the past two years Elisabeth and I became a bit deranged in our support for the British Red Cross Christmas Market at Guildhall.  We saw Christmas market competition everywhere.  If you look around City streets you too will see some cheeky red signs for a chain of Christmas convenience stores.  Their name?  Pret a Manger!
So what were the results?  Well, here's a photo of HRH Princess Alexandra opening the event with the Rt Hon The Lord Mayor Charles Bowman: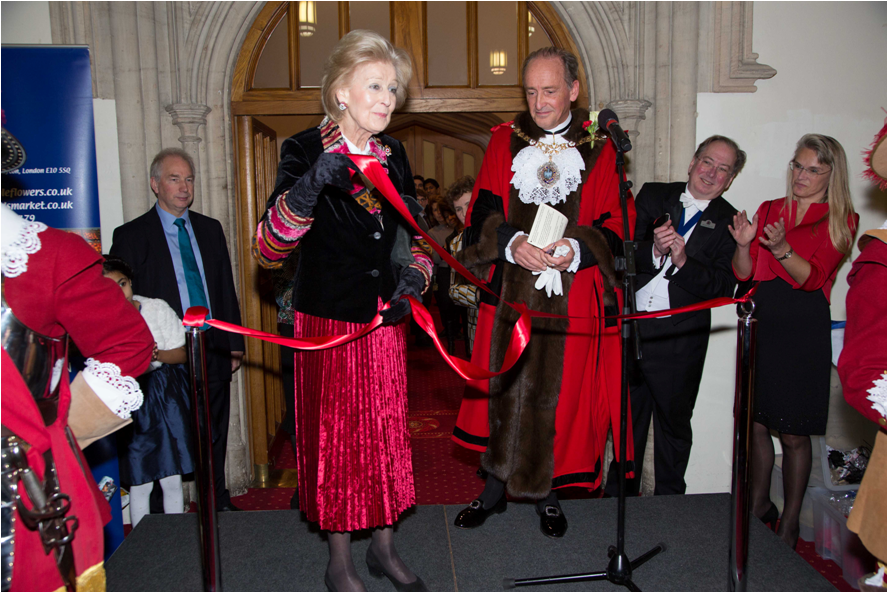 You can see two co-Chairmen, Elisabeth and me, in the background starting to become more relieved.  Overall, how could we not be delighted with the event?  The Monday night 'production' was superb.  The stalls, livery and commercial, were stunning and fun.  HRH Princess Alexandra shopped as never before – over two hours.  There were some hiccups, errant and elusive stall tablecloths on Sunday come to mind.  Credit card machines worked significantly better than before, and always a few niggles.
Total income was circa £155,000, slightly behind 2015 yet remaining slightly ahead of 2013.  The Monday night had significantly higher ticket sales than ever before, showing staunch City support. A few remarks about Christmas retailing may help place the results in context.  'Black Friday' (US retailers giving sharp price reductions after Thanksgiving) has plopped itself down just before the our Christmas Market over the past decade, while 'Cyber Monday' (another severe discount day begun a decade ago to encourage online sales) has plopped itself down on opening day.  And 2017 is the first time since 2006 that Christmas itself falls on a Monday.  This 'Christmas on Monday' effect is quite important as major retailers typically find sales lag by approximate three days.  Against the background of increasingly tough competition and price wars, our biennial 'amateur' pop-up market amazes many professionals.
What made the whole event so special for both of us was our entire City community coming together for charity and comradeship in such a convivial and generous way.  It is impossible to imagine a more wonderful way to celebrate Christmas than doing something for the common good with dear friends.  We shall always treasure that memory.  And that welcome text in full:
Your Royal Highness, My Lord Mayor, My Lords, Your Excellencies, Aldermen, Sheriffs, Masters, Fellow Liverymen, Ladies & Gentlemen.  Welcome to the Wonderful 2017 British Red Cross Christmas Market at Guildhall.  Yet again we have our traditional festive market and innovations sucha as a German Weihnachtsmarkt and a Foodiefest.
We cannot thank so many supporters enough.  We extend our sincere thanks for the long-standing royal support, and dedicated shopping, of British Red Cross Deputy President HRH Princess Alexandra.  We thank the entire Red Cross team, represented here by Lady Lamport, and project managers Laura Deacon and Kerry Thomas who led the work programme these past 24 months.
There is a very special relationship between the British Red Cross and the City of London, starting with the City's stalwart support of emergency appeals.  The Rt Honourable the Lord Mayor Charles Bowman and Lady Mayoress Samantha Bowman are Patron and Chairman respectively of the City of London Sector of the British Red Cross.  The late Lord Mayor, Dr Andrew Parmley, and his wife Wendy, conducted several appeals to help us raise funds for these two days. 
Over the past two years Elisabeth and I became a bit deranged in our support.  We saw Christmas market competition everywhere.  If you look around City streets you too will see some cheeky red signs for a chain of Christmas convenience stores.  Their name?  Pret a Manger.
The Corporation donates this magnificent and valued venue and our Civic Team turns up in force with our Sheriffs Tim Hailes and Neil Redcliffe.  Of course, Neil and his wife Emma were the former Chairmen and handed on this Market in wonderful shape back in 2015. Our Chief Commoner, Wendy Meade, is resplendent here tonight, yesterday in mufti along with numerous members of the Civic Team, Aldermen, Commoners, and Guildhall staff.
Our wider City community includes the Pikemen & Musketeers, The Light Cavalry, Colin Sayer of Seasoned Events, Livery Companies, Ward Clubs, the City Livery Club, Guild of Freemen, and City Guides – who have supported the Market these many years.  City stalls donate 100% of their takings to the Red Cross.
As Master World Trader this year, what distinguishes this event is that the Steering Committee and Main Committee, run a genuine market, and we thank the numerous Patrons who gave their support, their time, their goods, and their cash.
We also thank the stallholders, accountants, runners, lifters, drivers, and musicians.  A wonderful addition has been the numerous Embassies participating, while celebrities such as Loyd Grossman and Cyrus Todiwala give glamour to the Foodiefest and Aleppo Supper Club.  The BBC Antiques Roadshow Team are here in force, as is artist Jeremy Houghton.
Jean-Henri Dunant witnessed 40,000 dead or wounded at the Battle of Solferino, that led to him forming the Red Cross in 1863.  Just seven years later the British Red Cross began.  The British Red Cross helps people in crisis, whoever and wherever they are, as part of a global voluntary network, responding to conflicts, natural disasters, and emergencies.  Today the British Red Cross has 32,500 volunteers and 3,500 staff disbursing a quarter of a billion pounds annually.
But none of this would be possible without support from the public and you here tonight, all of us.  Our Christmas Market helps to make a difference. May the British Red Cross flourish until we do have Peace on Earth and Goodwill Toward Men.
So join me in wishing everyone here for these two days Merry Shopping and Happy Christmas.
Thank you.