Banker Baron Overstone, on seeing the "unmitigated disappointment" of his new Overstone Hall in Northampthonshire (now derelict), grumbled, "We have fallen into the hands of an architect, in whom incapacity is his smallest fault."
Well, I certainly don't feel as morose as Baron Overton. In the case of my Shrieval chain and badge, as well as Elisabeth's brooch, all we can say is that we fell into the hands of a silversmith, in whom genius is his smallest fault. We are so delighted with Grant Macdonald's work.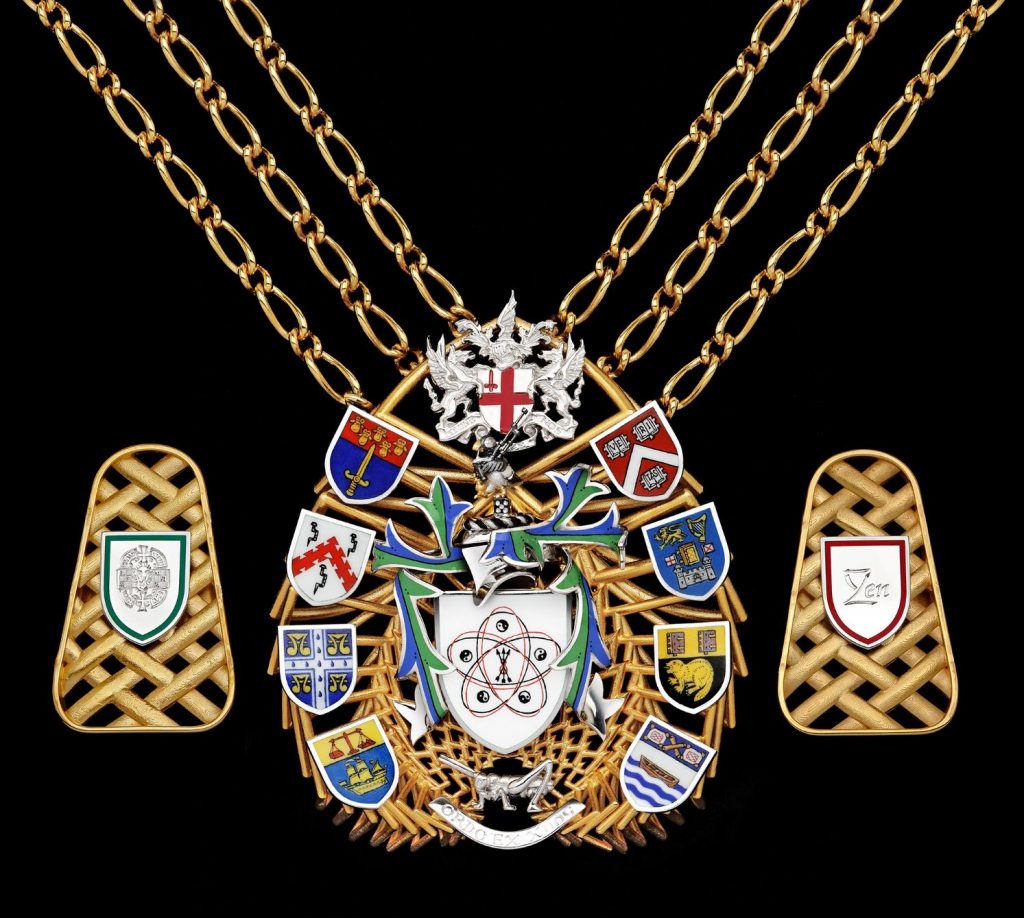 The Shrieval Chain and Badge of Office
presented to Alderman Professor and Sheriff-Elect Michael Mainelli on 19 September 2019
The Chain and Badge of Office was designed and made by City Goldsmith Grant Macdonald. Michael's motto Ordo ex χάος, 'order from chaos', emphasises the scientific method, eliciting knowledge from uncertainty, and discerning beauty in chaotic structures. The basis for the badge is a 'fractal', a never-ending pattern melding order and chaos.
Livery company shields, the World Traders, Furniture Makers, Water Conservators, Marketors, and Watermen & Lightermen, along with Harvard, Trinity College Dublin, and London School of Economics shields, surround the Coat of Arms. The grasshopper represents his Gresham College professorship, as well as links with Boston (Faneuil Hall).  Chains rise from the City of London arms to shoulder pieces shaped as Thames sailing barge leeboards with a bagpipe ferrule pattern. Green and red enamel surrounds contain engraved shields of Broad Street and Z/Yen evoking port and starboard.
The Coat of Arms was designed by William Hunt at the College of Arms. The Escutcheon's two five-lobed cinquefoils signify the Italian family name 'main' (hand) 'elli', as 'nimble-fingered'. Cinquefoils are 'celtic' or 'pretzel' knots, indicating Michael's Irish and German ancestors, and German wife, Elisabeth. The resulting 'star' reflects the USA and Gresham College. Five tao symbols with plus & nought yin & yang symbolise philosophy and computation.
The analemma, the 'equation of time', reflects Michael's digital cartography work. Rendered as a mobius strip, the analemma's cyclic infinity mirrors Michael's Long Finance movement. Three arrows represent work in science & defence, stochastics & statistics, and accountancy & finance; his three children; and three lifelong themes of 'tempus fugit' (time flies, 'like an arrow'), 'sumus unus' (we are one), and 'carpe diem' (seize the day).
The Crest sports a puffin, which Michael loves from sailing as equally at home in air, land, and sea, particularly in northern climes. This puffin-on-pipes 'chances the impossible' on a loaded wooden die balancing a love-knotted World Traders' money bag. The Irish pipebag sports a compass rose doubling as a ship's wheel for his wife's wheelwright family.
As for Elisabeth's brooch: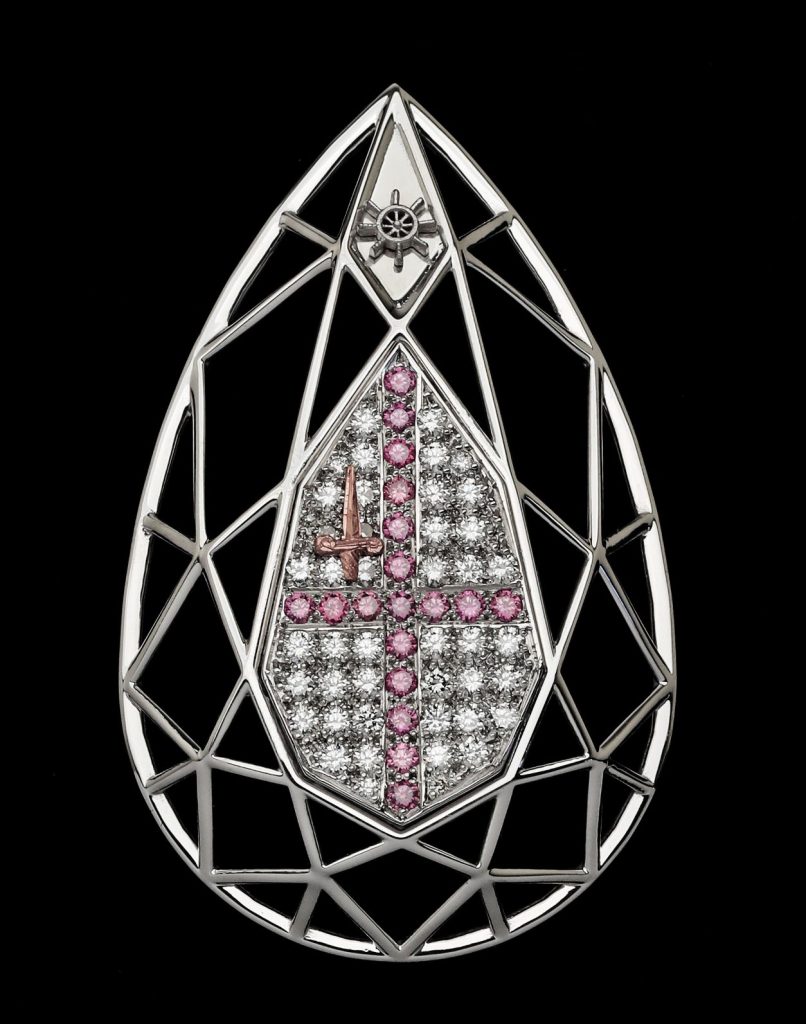 The diamonds have been set on a silver diamond 'pear' shape, a bit of recursion here. The shield of the City of London features at the centre. A wheel symbolising Elisabeth's wainwright and wheelwright family, her love of the helms of Thames sailing barges, and the wheel of St Katharine's Dock all merge in the lovely silver wheel at the top.