Well, the cat, or snail (see below), rather 'puffin', is truly out of the bag (pipe). As I mentioned in my Shrieval Chain Presentation, Puffin On Pipes:
"imagine your entire family have no idea of your favourite animal, the puffin. Just because you've never gone soppy and bought a gaudy plastic tourist souvenir on a puffin island tour – as part of the puffarazzi – doesn't mean you haven't spent 60 years trying to justify smelting a small puffin statue."
My sister Katy made the mistake in her early twenties of telling the family, not known for our imagination when selecting gifts, that she was rather fond of snails. The inevitable deluge from last-minute single-brain-cell family purchases means her apartment remains inundated with the 'remains of the years' of uninspired birthday and Christmas presents.
And, yes, it's begun for me. I'm now being accosted to enumerate where I've gone to view puffins. It's actually a rather long list, Alderney, Lambay Island, Kerry, Clare, Mayo, Wales, Islay, Jura, Isle of Staffa, Coll/Tiree/Treshnish, Orkneys, and Shetlands, just to get started. So no, hardly a recent affectation.
Ah, but the presents! First off the mark has been the adorable Linda Cook. Can you believe this mug below has actually been manufactured in enormous quantities to quench the Scottish tourist industry's unslaking thirst for bagpipes & puffins?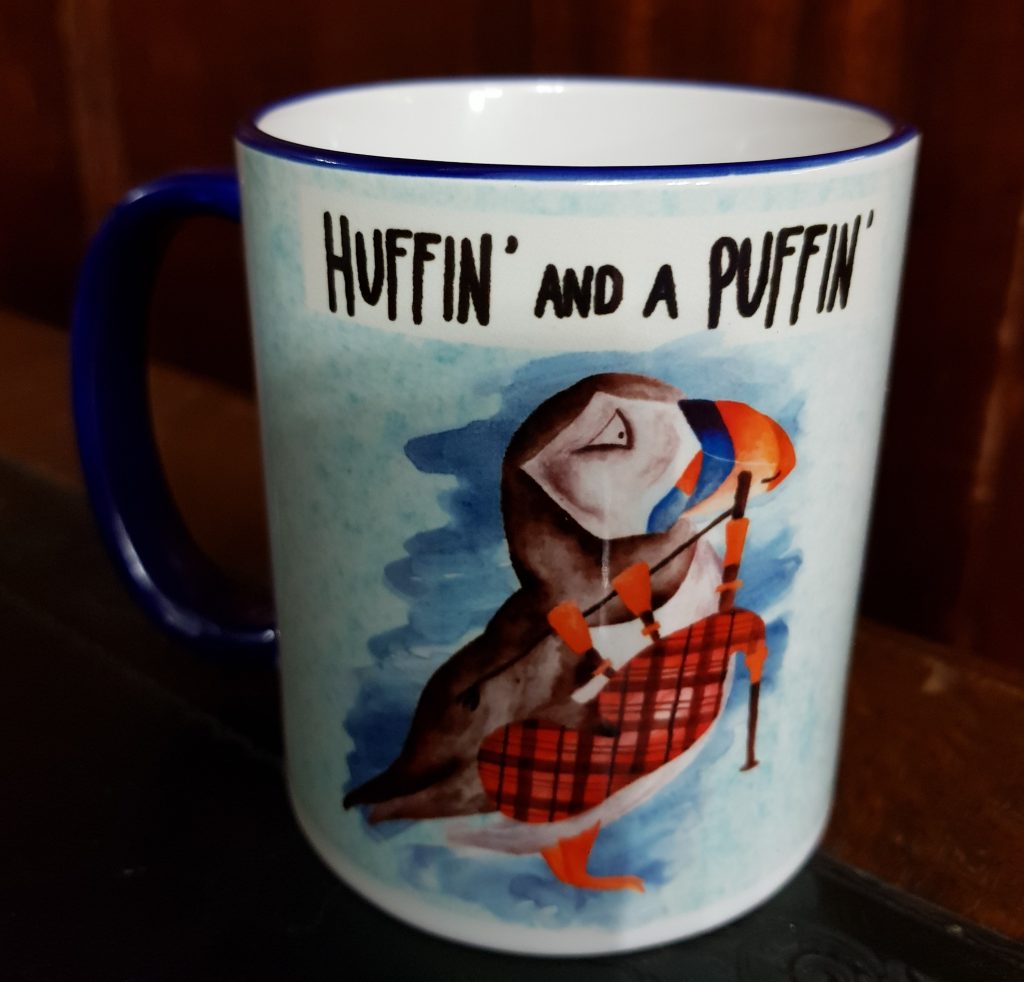 Yet … there is a bit of imagination around. Never forget PDQ Bach's inspired, daunting yet diverting and slightly whistle-ful "Pervertimento For Bagpipes, Bicycle And Balloons, S. 66". While you might think that a bagpipe & puffin motif is unusual, it's only unusual for some, and not exactly rare.
For example, on our third visit to Geisler-Moroder woodcarving school in 2018, while a bagpipe & puffin coat of arms was being surreptitiously created, Elisabeth explained to me that I craved to carve a bagpipe & puffin. While our tutor, Robert Simon, is far too tolerant of our aspirations, even he wanted more than vague words, perhaps a drawing, leading to a 3D model. Fortunately, Canadian Werner Zimmerman's Puffins Puffing plus Drew Buckley's Puffins book inspired us to dare to let me carve. The result as of August 2018 is on the left, with the scaling (30 min) 3D model on the right.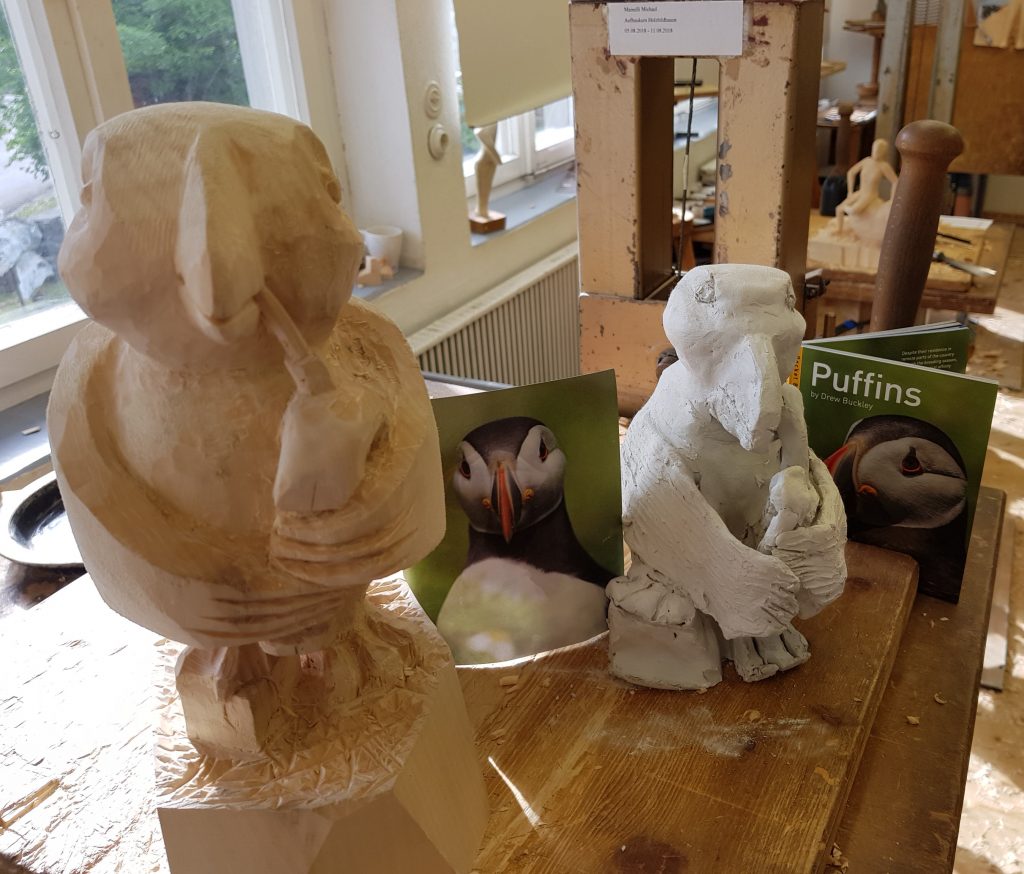 Painting though intimidates me. It's what I call 'pernickety'. No matter how careful I am, the paint will sooner or later get on my fingers, move to places it's not supposed to, and then decide to bleed together. So the carving sat tight for almost two years until 'lockdown' removed all excuses to get going. And here's the result.
Perky Profile Right

Perky Profile Left
Naturally, his nickname is "Perky", short for P********y of course. Amateur as you can see, but at least it's not been churned out by one of the great bagpipe & puffin factories in Asia (you know 'em). One good thing I've noticed is that with a mascot, whatever the medium, you have a default subject. So here we go again – a first attempt at watercolours: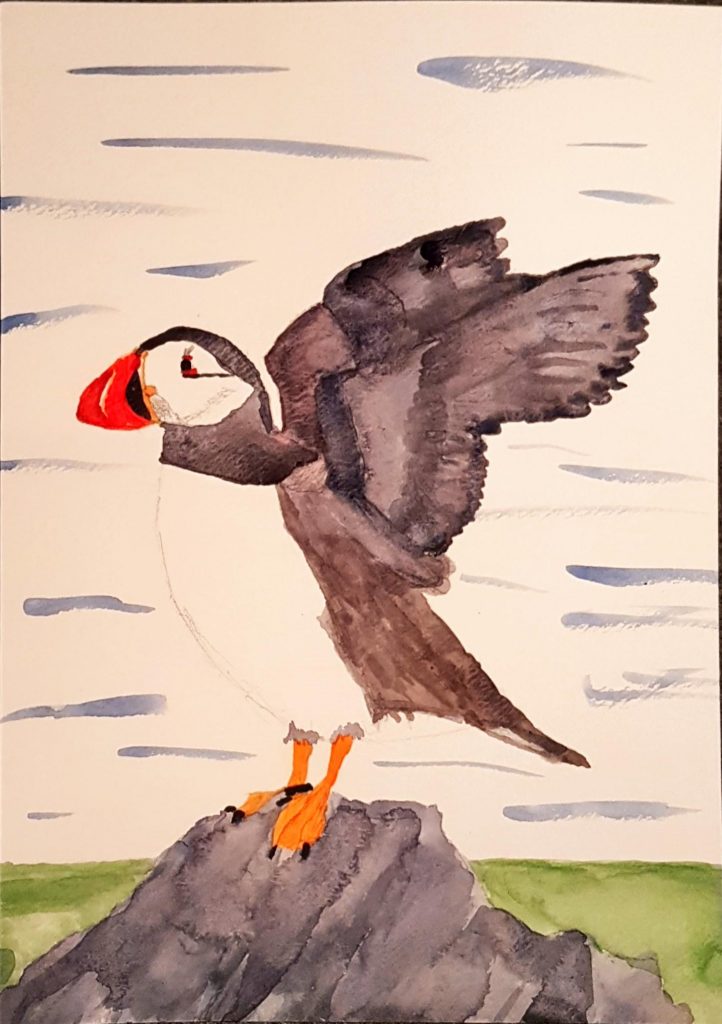 Where will this all end?