It was a dark and stormy afternoon…
I've always enjoyed Edward Bulwer-Lytton's works (honest). Interestingly, while he did provoke opprobrium for the phrase "it was a dark and stormy night", he equally garnered admiration, leading to a lovely Bulwer-Lytton Fiction Contest for "the funniest opening sentences from the worst novels never written".  How can one express the delight (?) of reading winners such as, "Dawn Esterbrooke looked lovingly upon the gifts which her lifelong childhood friends brought to her wedding shower, but inside her guts churned like an overripe peach in a blender because only two hours earlier she had left a motel with her best friend's homosexual father."
by Steve Garman of Pensacola, Florida.
Snoopy, of Peanuts' fame, repeatedly uses this sentence as his never-quite-written novel's opening line:

Long may the contest live. So what's the connection to a long and stormy afternoon? As somewhat anticipated, not just lurking puffin passions but also long-held piping proficiency demands rise just when you have the least time for practice. [Yes, dear reader, adopting Bulwer-Lytton stylisms]
The perceptive, Scottish, incoming Master of the Worshipful Company of Marketors, Lesley Wilson, spotted an opportunity to have a Sheriff pipe her into her installation ceremony. I accepted her request with honour, not least as the Marketors kindly made me an honorary liveryman last year.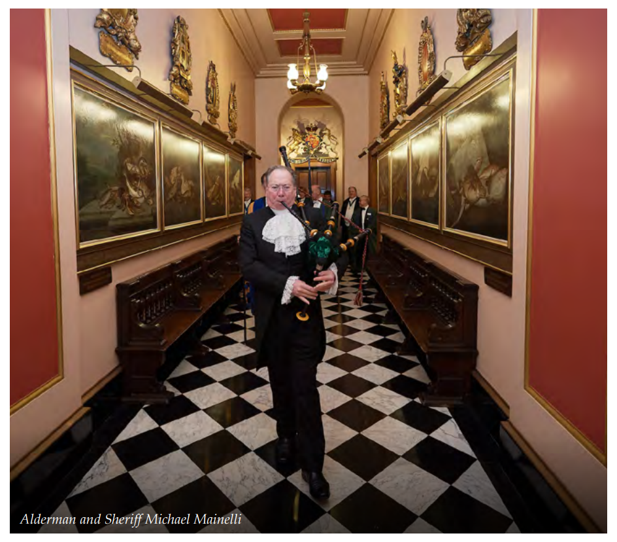 This shot shows me processing through Fishmongers' Hall on 30 January 2020 followed by the Court of the Company. You can read more in Marketor, Spring 2020, Issue 84, pages 6 to 9. Of course, another perspective was being stuck in the Fishmongers' Library full of fishy books for 30 minutes ahead of time (though I did peruse a wonderful copy of "The Salmon Rivers Of Ireland" by Augustus Grimble (1913)), followed by piping, failing to get a dram because I had to dash to another event (you really can't make up the wonderful variety of things Sheriffs get to do, the "Hampstead Heath, Highgate Wood and Queens Park Committee Dinner"), and then jealously hear of another piper getting paid for the after dinner show. I'll bet he got a dram!
Nevertheless, one of the great perkys of being Sheriff this year is taking advantage of the Grand Hall below our living quarters. Elisabeth and I came back to the Old Bailey late on a Saturday afternoon, with me fully kitted out from attending the Parade and lunchtime reception for the "71st (City of London) Yeomanry" (you really really can't make these up), grabbed my bagpipes and went upstairs. I inflated them on that dark and stormy afternoon for one reverberating rendition of that cliched (but moving) classic, Scotland The Brave. Nobody says you have to listen for 48 seconds…