Week 26 since UK government lockdown on 16 March – Covid-19 has meant that my Brother Sheriff Christopher Hayward and I, instead of serving one year from September 2019, have been asked to serve two, ending September 2021.  We believe this is the first time in almost 800 years (1228 AD?) this has happened.  So a summary?
Most importantly, it's great to be a Sheriff. The several thousands of interesting people you meet, the conversations you have, the events you're privileged to attend, and the special things you're allowed to do, amount to a fantastic job. In the limited space available I'll mention three highlights.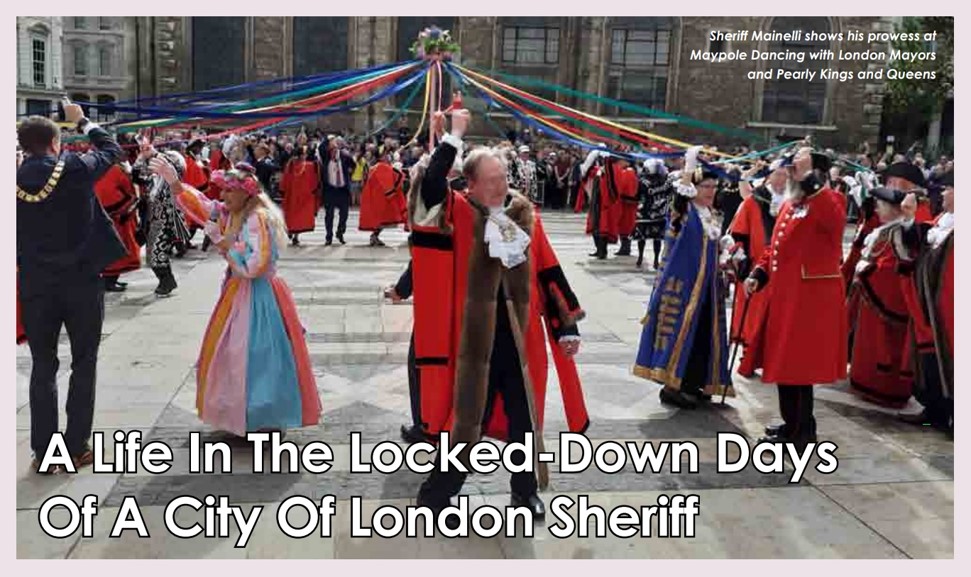 On our first formal day we found ourselves walking sheep across London Bridge with Michael Portillo, then dancing round a maypole with the Pearly Kings & Queens at the Costermongers' Harvest Festival. Second, and more intimidating than you might think, was the honour of giving a Christmas reading to 3,000 people at St Paul's Cathedral. The acoustics are tricky, but when it finally came together it may well remain the most special Christmas service ever for my family. Third, being responsible for the Old Bailey, ranging from letting in six dogs and 27 officers on a contraband sweep as officer in charge, to greeting the Lord Mayor with one of your two ceremonial swords as he opens the Old Bailey.
You really can't make it up. Then at night, as you get back from a Mansion House dinner and kick your heels up with your wife in your private apartment, it's just the two of you, a security guard, 18 courts, 74 jail cells, 400,000 square feet of offices. And finally, late on a wintry Saturday afternoon you get out your bagpipes and knock off a tune in the Grand Hall of the Old Bailey all on your own. Again, the acoustics are tricky, but what reverberation!
Yet there is a serious side to all this. The civic team works to strengthen our community of over 500,000 workers and 9,000 residents. Our long-term objectives are to create prosperity, share success, and enrich our environment. We have clear strategic themes:
Promoting the business, professional, technical, and financial services of the City and the UK;
Increasing impact of charitable and voluntary activities;
Continuing to develop London as THE global city.
The Lord Mayor travels. We Sheriffs stay here at home, judging prizes, giving out school awards, and dancing round maypoles. Together we address issues such as finance's role in COP26 in Glasgow, how to keep London foremost post-Brexit, or how support initiatives like the northern liverymen's Brigantes club.
You couldn't make it up, a year, or two, of living above a gaol and we get 'locked down'. After a furious six months of shrieval, civic, and Old Bailey social events crashed to a halt, they've been replaced by continuous videoconferences with businesses, global financial centres, or livery companies. The transition has been hard, but successful. The civic team work is as relevant as ever, and the continuity of those who know the old and new systems has been most useful. Clearly we're all working to establish a new normal that gets business and businesses back in the Square Mile.
We Sheriffs are using our two years in the Old Bailey particularly to promote the rule of law. Rule of law is cited by international partners as a fundamental reason for conducting their business in London rather than elsewhere. We want to ensure that if Britain is open for business, unless you're a crook, you can easily open a UK bank account. Along the way we've hosted events on green finance, diversity, lawtech, fintech, maritime trade, international regulatory interoperability, property development, and the Culture Mile. Though these events and our work move online, the next twelve months will still be at least as full as the past. And, if permitted, I look forward to another round of maypole dancing.