We, Michael & Elisabeth, must thank everyone most warmly for their fantastic support last week. We truly appreciate everyone's contributions, whether financial, organisational, or libational. We had a simply wonderful time, and a terrific closing event for our two years in the Old Bailey.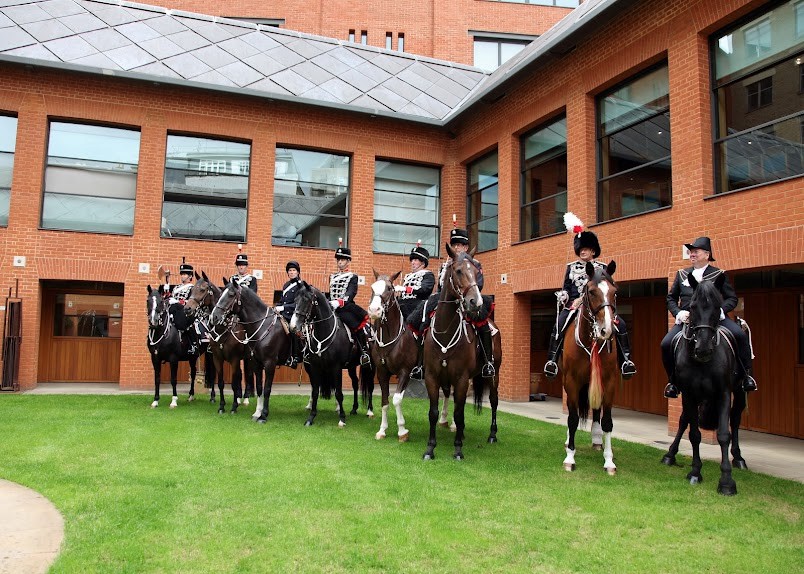 By way of follow up:
1 – some 240 photos are here – https://photos.app.goo.gl/B4cExRpaDa6qZoJF9 (sample above). These photos are courtesy of Mark Duff, our official photographer. Mark has donated them all without copyright, so you are free to use them. We hope that one or two might suit your wall, your livery, a newsletter, or social media. Mark has rendered them all for 5×7, but has kindly said that if you particularly want another size, please just ask him at Aberthau Consulting aberthauconsulting@gmail.com.
2 – the results of the fundraising for the Sheriffs' & Recorder's Fund – https://www.srfund.org.uk/ – are:
Raised on JustGiving £8,683.57 from 267 people.
Direct contributions £4,201.78 including two particularly significant contributions from the Worshipful Company of International Bankers and C Hoare Charitable Trust
Total £12,885.35
A simply wonderful result. The fundraising link will be open for a few more weeks if any of your colleagues want to add a bit – https://www.justgiving.com/fundraising/shrieval-ride – but the big thing was the wide participation from over 350 people.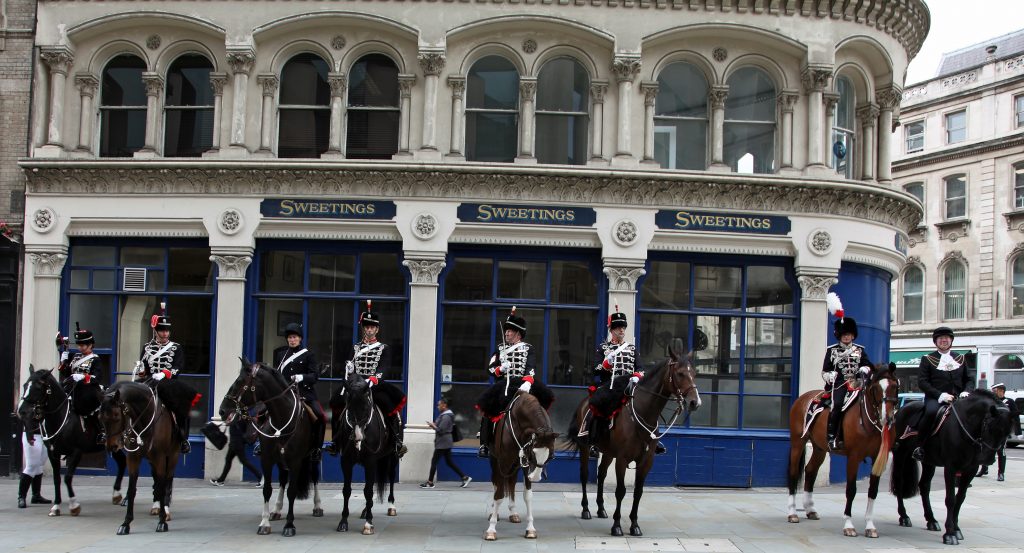 There were too many highlights from the trip, but it was fantastic to get round Mansion House, some 17 livery halls, and a lot of iconic City locations, including riding into Haberdashers' yard to put hoof marks on the lawn for the first time. We thank everyone for being so generous with champagne, wine, port, beer in tankards, sloe gin in thimbles, juices, and water (don't underestimate how great water can feel after three hours in the saddle), and more generous to the horses with apples and carrots, including some bags of fruit and vegetables to take home (Leo and his team of trusty steeds say thank you).
The route was: Sweetings 09:25, Mansion House 09:30, Grocers 09:40; Furniture Makers 09:50; International Bankers 09:51; Drapers 10:08; Carpenters 10:15; Armourers 10:22; Girdlers 10:34; Wax Chandlers 10:41; Saddlers 10:51; Goldsmiths 10:58; Pewterers 11:05; Plaisterers 11:12; Ironmongers 11:19; Farmers & Fletchers 11:27; IT Hall 11:36; Founders 11:42; Cutlers 11:50; Old Bailey 12:15.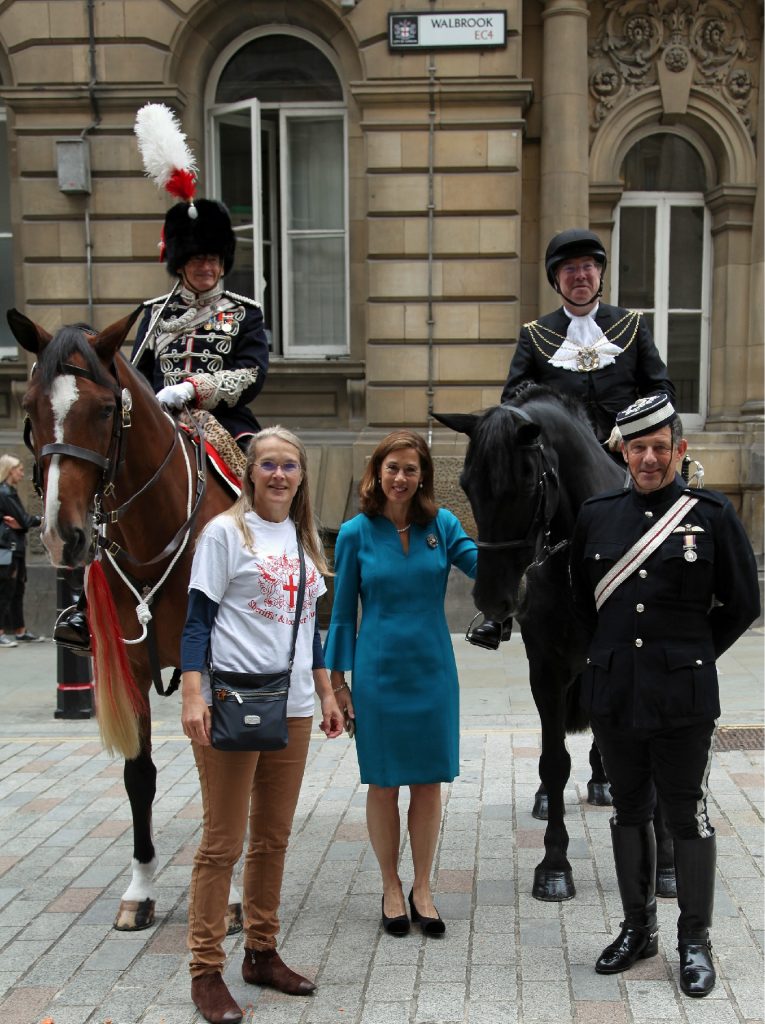 There are too many thanks to get everything right, but let's start with Caroline Quested, Yard Manager of the HAC Light Cavalry at Flemish Farm, Windsor, and her team on the day led by Joy. The two City of London Mounted Police and two City of London Bicycle Police made our route smooth shod. Our sincere thanks to the accompanying fundraising squad of Yvonne, Margaret, and Linda handling buckets and 'tappers'. Thanks of course to Mark for being our most generous official photographer. Thanks to Sean, Philip, Rebecca, and the Old Bailey and Mansion House teams for costume arrangements and accompanying us, as well as all the administrative arrangements. To William Hunt of the College of Arms for a bicorn (where else would you get one?).
The biggest thanks of all must go to Officer Commanding Alan Willis and the entire HAC Light Cavalry for their superb organisation and execution. Alan personally walked the route over six times to get it right, given frequent changes in availability and roadworks. Charles kindly let Michael ride his favourite horse Leo, and kept trying to train Michael en route. The whole team made Michael feel most confident; perhaps too confident as he's now booked to go riding twice next month with his daughter. At the beginning Alan told Michael that "this will be the highlight of your two years as Sheriff". He couldn't have been more right.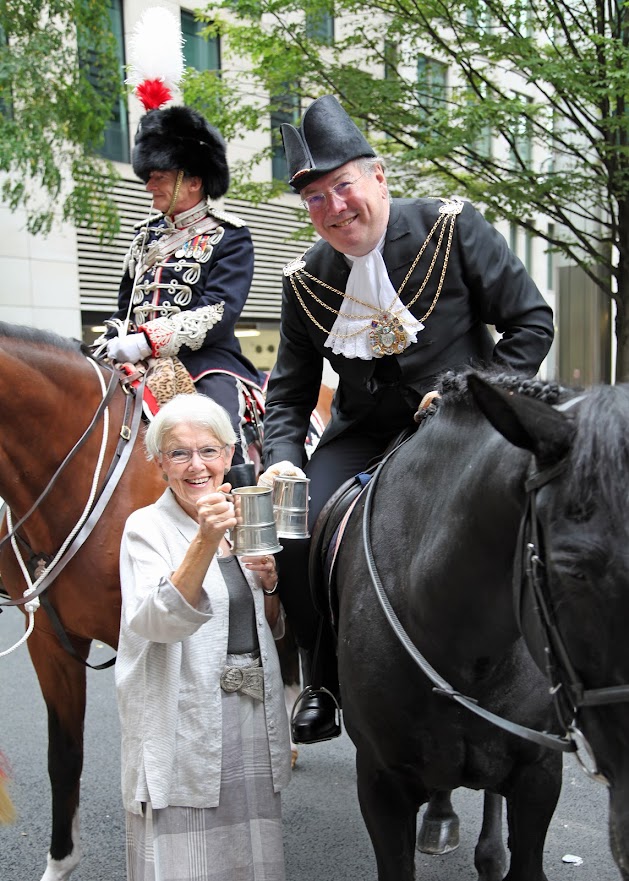 There is one final Totally Thames event open to one and all, "Sheriffs Ahoy!", no fundraising involved, on Friday, 1 October, at 10:15 am if you want to go to Temple Pier and wave Michael & Christopher off as Sheriffs as they're rowed down river and away by the City of London Thames Watermen Cutter, captained by Jon Averns – https://thamesfestivaltrust.org/read-watch-listen/sheriffs-ahoy/. If you're in the neighbourhood, it would be great to see you there.